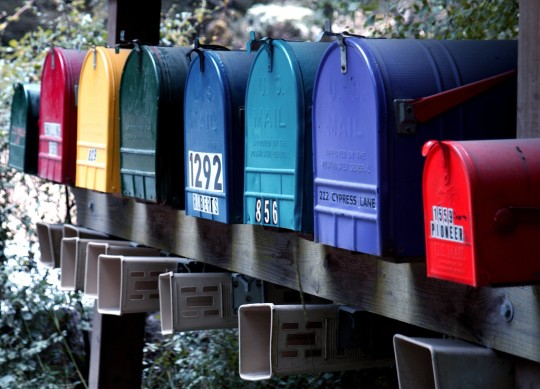 Mailbox Monday has become a tradition in the blogging world, and many of us thank Marcia of The Printed Page for creating it.
It now has it's own blog where book bloggers can link up their own mailbox posts and share which books they bought or which they received for review from publishers, authors, and more.
Leslie, Martha, and I also will share our picks from everyone's links in the new feature Books that Caught Our Eye. We hope you'll join us.
Here's what I received:
The Engagement Gift by Lauren Blakely from Audible.
Some things are better left unsaid.

Besides, I don't need to act on every wild thought that flits through my imagination, not when my fiancé and I have the kind of life I've always longed for – passionate, intimate, and, oh, so real.

I can't risk losing him, so I focus on building our life together as a couple, expanding my career as a sports reporter, and prepping for our wedding. But the more insistent my thoughts become, the closer I get to telling him what I want most…

The question though is: What will happen to our unbreakable bond when I do?
Mr. Darcy's Fault: A Pride and Prejudice Vagary Novella by Regina Jeffers, a freebie.
What if an accident prevents Elizabeth Bennet from reading Mr. Darcy's letter of apology? What if said letter goes missing and ends up in the hands of George Wickham? What if Mr. Wickham plans to use the evidence of both Georgiana Darcy's ruination and Darcy's disdain for the Bennets to his benefit? How will Darcy counter Wickham's plans and claim happiness with Elizabeth Bennet?

When he notices his long-time enemy in the vicinity of Hunsford Cottage, FITZWILLIAM DARCY means to put an end to an assignation between ELIZABETH BENNET and Mr. Wickham, but Darcy is not prepared for the scene which greets him in Rosings Woods. Elizabeth lies injured and crumpled beneath one of trees, and in order to save her, by Society's standards, Darcy must compromise Elizabeth. Needless to say, Darcy does not mind claiming Elizabeth to wife, but what of the lady's affections? Can Darcy tolerate Elizabeth's emotions being engaged elsewhere?

Compelled into an engagement she least desires, Elizabeth Bennet thinks it impossible she could ever care for the arrogant Mr. Darcy, but the man proves more irresistible than Elizabeth first assumes. Yet, just when Elizabeth begins to believe happiness is within their grasps, Mr. Wickham reappears in her life with a "proposal" Elizabeth cannot refuse, and it is all Mr. Darcy's fault.
What did you receive?