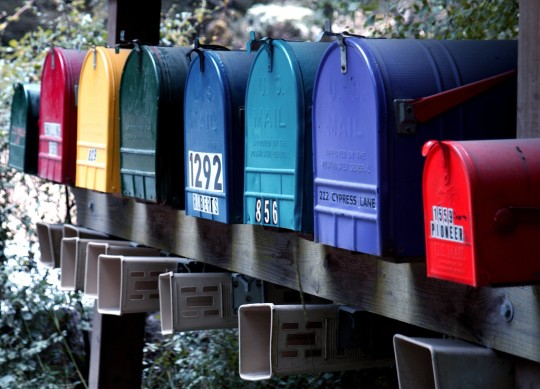 Mailbox Monday has become a tradition in the blogging world, and many of us thank Marcia of The Printed Page for creating it.
It now has it's own blog where book bloggers can link up their own mailbox posts and share which books they bought or which they received for review from publishers, authors, and more.
Leslie, Martha, and I also will share our picks from everyone's links in the new feature Books that Caught Our Eye. We hope you'll join us.
Here's what I received?
My Charming Rival by Lauren Blakely, a freebie.
To do list: Graduate with honors, get into medical school, and snag the most-sought-after celebrity photo of all time to cover my tuition. One more thing — resist the hot British guy who's my biggest rival.

But from the first day I run into William on his motorcycle, he makes that difficult, since he's flirty, charming, clever and keeps trying to convince me to spend the night with him.

Trust me — stripping him down to nothing is on my wish list, but I can't let him get under my skin as I chase cheating directors and stake out clandestine trysts. Yet everywhere I go, my most charming rival is there — is he following me, trying to woo me, or aiming to sabotage my plans?

When I'm offered a brand new ticket to my dreams, I have to decide if I want to team up with the sexiest enemy ever…
Except there's a third option too–and that one's looking mighty appealing–if I'm willing to take a crazy chance.
The Subsequent Proposal by Joana Starnes, a freebie.
A number of broken-hearted characters from Jane Austen's best novels are thrown together by the vagaries of fate, and all manner of unwise decisions are taken at this vulnerable time. But then their past creeps up upon them – and what is there to do but face it, and hope that their convoluted paths will finally lead them to their proper place?

"Elizabeth… " he murmured against her lips, her skin, her hair, and then her lips again. "I cannot forsake you. I cannot! I cannot bear to think of a life without you. 'Tis not worth living, 'tis but a slow death. I cannot lose you! I beg you, do not send me away again. I love you. Elizabeth, I love you!"

Friends, rivals, foes, wrong choices and a duel – Fitzwilliam Darcy's life is never dull. 'The Subsequent Proposal' – a story that is primarily about him – follows Mr Darcy in his struggles to decipher the troubling enigma of Elizabeth Bennet's feelings – and to correct the worst misjudgement of his life…
Mr. Darcy's Letter by Abigail Reynolds, a freebie.
A lady's reputation is a fragile thing. If anyone ever discovered that Miss Elizabeth Bennet had received a letter from a single gentleman, she could be ruined… or forced to marry a man she detests. In this Pride & Prejudice variation, Elizabeth takes the safer course and refuses to read Mr. Darcy's letter of explanation. Returning home unaware of Wickham's true nature, Elizabeth confesses everything to him, putting both Mr. Darcy and herself in grave danger from Wickham's schemes. Note: This book contains an intimate scene between an engaged couple.
Inspiration by Maria Grace, a freebie.
Gentleman artist Fitzwilliam Darcy had never been able to express himself in words, but with his brushes and paints, he expressed what few men ever could. When his flighty muse abandons him, though, he finds himself staring at blank canvases in a world that has turned bland and cold and grey.

Worried for his friend, Charles Bingley invites Darcy to join him in Hertfordshire, in hopes the picturesque countryside might tempt Darcy's muse to return. The scheme works only too well. His muse returns, with a vengeance, fixated upon the one young woman in the county who utterly detests him.

Will his selfish disdain for the feelings of others drive her and his muse away or can he find a way to please this woman with the power to bring color and feeling back into his world?
Christmas at Pemberley by Ola Wegner, a freebie.
We have opportunity to observe Christmas at Pemberley over the course of twenty years. From the time Fitzwilliam Darcy was just a boy, enjoying the love and attention of both of his parents and the antics of his baby sister. Through the years of darkness and struggles when he dealt with the death of his mother and father, raising Georgiana and carrying the responsibility of Master of Pemberley. To the moment when he is a mature man with a family of his own, reveling in happy existence with the love of his life and the mother of his child by his side.
A Lively Companion by Corrie Garrett, a freebie.
Book 1 of An Austen Ensemble
When Lizzy Bennet reluctantly agrees to become Anne de Bourgh's companion on a short trip to Tunbridge Wells, she stumbles feet first into a summer of misunderstandings, revelations, and unexpected proposals.
Mr. Darcy, feeling foolish that he came to the brink of a proposal due to an arbitrary deadline, decides to accept his aunt's request to accompany them–hoping that his decision regarding Elizabeth will make itself plain.
While Anne spends her morning dutifully drinking the famed waters of Tunbridge Wells, Lizzy is pulled further into the Darcy and de Bourgh family circle. From Darcy's cousin, Lady Honoria, to his sister, Georgiana, Lizzy can't help feeling that this is a family she would like, except for Mr. Darcy!
Which only makes it all the more painful when she must resolutely reject the proud head of the family…
Drift by Alan King on Audible.
"Alan King reminds us of the beauty of efficiency. His poems do not waste moments or words. These are wonderful journeys into the lives of everyone (something of you is here, I guarantee it), effortless, peaceful but powerful walks that focus upon the compassionate things: Friendship, love, family, justice, tradition. Alan King has started his own tradition in Drift, one born of his own generation but timeless and strong; a voice we should all hope will be showcased for years." (Brian Gilmore, poet, public interest lawyer, and columnist for The Progressive Media Project)
What did you receive?