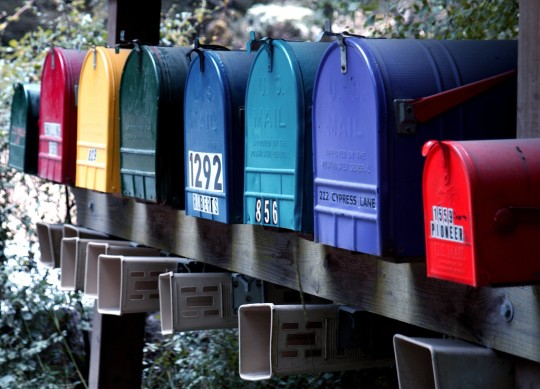 Mailbox Monday has become a tradition in the blogging world, and many of us thank Marcia of The Printed Page for creating it.
It now has it's own blog where book bloggers can link up their own mailbox posts and share which books they bought or which they received for review from publishers, authors, and more.
Leslie, Martha, and I also will share our picks from everyone's links in the new feature Books that Caught Our Eye. We hope you'll join us.
Here's what I received:
The Christmas Pact by Vi Keeland and Penelope Ward, narrated by Andi Arndt and Sebastian York from audible.
Eggnog. Check. Roaring fire. Check. Hot romance audiobook. Check!

Riley Kennedy's emails keep getting crossed with her male colleague, Kennedy Riley. The infuriating man forwards them along with his annoying commentary and unsolicited advice. At least she never has to see him in person, since they work in different locations…until they come face to face at the office holiday party.

As luck would have it, Kennedy turns out to be outrageously handsome…though still a jerk. Yet somehow he's able to charm her out on the dance floor—and convince her to participate in his crazy scheme: he'll go home with Riley for a Christmas party and pretend to be her boyfriend, if Riley agrees to be his date to a wedding. It sounds easy enough. Little by little, however, the act they're putting on starts to feel like so much more than a Christmas pact—and Riley's about to learn there's more to Kennedy than she ever imagined.

Romance audiobook dream team Vi Keeland and Penelope Ward join forces again to deliver an engaging, funny, and sexy story that will make listeners laugh while it sets their hearts racing. Narrated by the double audio act of Andi Arndt (inducted into The Audible Narrator Hall of Fame in 2017) and Sebastian York, this sizzling novella will heat up the holidays…all year long.
What did you receive?