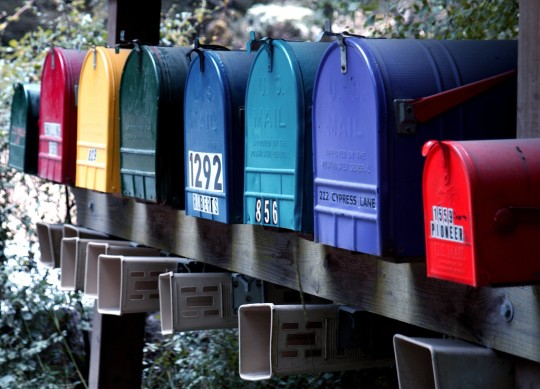 Mailbox Monday has become a tradition in the blogging world, and many of us thank Marcia of The Printed Page for creating it.
It now has it's own blog where book bloggers can link up their own mailbox posts and share which books they bought or which they received for review from publishers, authors, and more.
Leslie, Martha, and I also will share our picks from everyone's links in the new feature Books that Caught Our Eye. We hope you'll join us.
The Christmas Spirits on Tradd Street by Karen White for review.
Melanie Trenholm should be anticipating Christmas with nothing but joy–after all, it's the first Christmas she and her husband, Jack, will celebrate with their twin babies. But the ongoing excavation of the centuries-old cistern in the garden of her historic Tradd Street home has been a huge millstone, both financially and aesthetically. Local students are thrilled by the possibility of unearthing more Colonial-era artifacts at the cistern, but Melanie is concerned by the ghosts connected to the cistern that have suddenly invaded her life and her house–and at least one of them is definitely not filled with holiday cheer….

And these relics aren't the only precious artifacts for which people are searching. A past adversary is convinced that there is a long-lost Revolutionary War treasure buried somewhere on the property that Melanie inherited–untold riches rumored to be brought over from France by the Marquis de Lafayette himself and intended to help the Colonial war effort. It's a treasure literally fit for a king, and there have been whispers throughout history that many have already killed–and died–for it. And now someone will stop at nothing to possess it–even if it means destroying everything Melanie holds dear.
Skin Memory by John Sibley Williams from the poet.
A stark, visceral collection of free verse and prose poetry, Skin Memory scours a wild landscape haunted by personal tragedy and the cruel consequences of human acts in search of tenderness and regeneration. In this book of daring and introspection, John Sibley Williams considers the capriciousness of youth, the terrifying loss of cultural identity and self-identity, and what it means to live in an imperfect world. He reveals each body as made up of all bodies, histories, and shared dreams of the future.

In these poems absence can be held, the body's dust is just dust, and though childhood is but a poorly edited memory and even our well-intentioned gestures tend toward ruin, Williams nonetheless says, "I'm pretty sure, everything within us says something beautiful."
What did you receive?