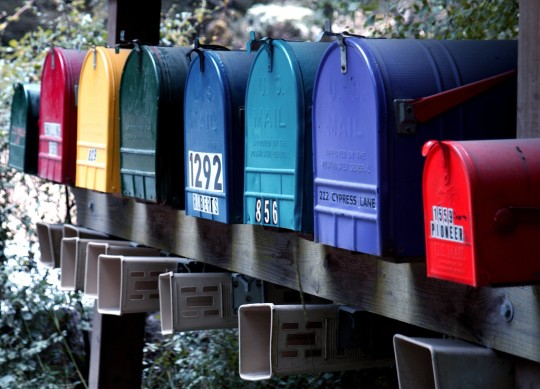 Mailbox Monday has become a tradition in the blogging world, and many of us thank Marcia of The Printed Page for creating it.
It now has it's own blog where book bloggers can link up their own mailbox posts and share which books they bought or which they received for review from publishers, authors, and more.
Leslie, Martha, and I also will share our picks from everyone's links in the new feature Books that Caught Our Eye. We hope you'll join us.
Here's what I received:
Birthday Suit by Lauren Blakely, purchased from Audible.
There is no rule in the Man Code as unbreakable as this: No matter how beautiful, smart, clever, and witty she is, do not – under any circumstances – fall in love with your best friend's woman. Yeah. So there's that. Look, it's not like I didn't know I screwed up by falling for her.

Also, for the record, unrequited love sucks big time. And, I might have cut myself some slack by now, given everything that went down in the last few years, but Lulu just walked back into my life in a big way.

There are three things I've never been able to resist – my friends, my family, and chocolate. Leo Hennessy? He was nowhere on that list. He's been a true friend – a friend who walked through hell and back with me. Now, I'm stepping into my new future. I didn't expect it to include a riddle-filled, race-against-the-clock scavenger hunt across New York City. With Leo.

Suddenly, I'm looking at this man with new eyes… But my life spun out because of a man once before, and I can't risk my fresh start, no matter what the temptation. And Leo is most definitely a temptation of the sexiest, sweetest, and most dangerous variety. More irresistibly delicious than chocolate….
Educated: A Memoir by Tara Westover, purchased from Audible.
Born to survivalists in the mountains of Idaho, Tara Westover was 17 the first time she set foot in a classroom. Her family was so isolated from mainstream society that there was no one to ensure the children received an education and no one to intervene when one of Tara's older brothers became violent. When another brother got himself into college, Tara decided to try a new kind of life. Her quest for knowledge transformed her, taking her over oceans and across continents, to Harvard and to Cambridge University. Only then would she wonder if she'd traveled too far, if there was still a way home.
Along the Broken Bay by Flora J. Solomon, an Amazon freebie.
December 1941. War has erupted in the Pacific, spelling danger for Gina Capelli Thorpe, an American expat living in Manila. When the Japanese invade and her husband goes missing, Gina flees with her daughter to the Zambales Mountains to avoid capture—or worse.

Desperate for money, medicine, and guns, the resistance recruits Gina to join their underground army and smuggles her back to Manila. There, she forges a new identity and opens a nightclub, where seductive beauties sing, dance, and tease secrets out of high-ranking Japanese officers while the wildly successful club and its enemy patrons help fund the resistance.

But operating undercover in the spotlight has Gina struggling to stay a step ahead of the Japanese. She's risked everything to take a stand, but her club is a house of cards in the eye of a storm. Can Gina keep this delicate operation running long enough to outlast the enemy, or is she on a sure path to defeat that will put her family, her freedom, or even her life at risk?
What did you receive?