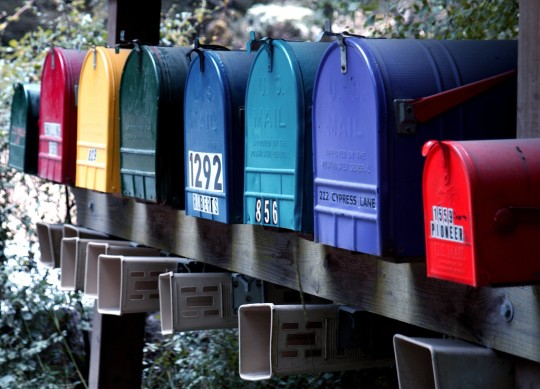 Mailbox Monday has become a tradition in the blogging world, and many of us thank Marcia of The Printed Page for creating it.
It now has it's own blog where book bloggers can link up their own mailbox posts and share which books they bought or which they received for review from publishers, authors, and more.
Leslie, Martha, and I also will share our picks from everyone's links in the new feature Books that Caught Our Eye. We hope you'll join us.
Here's what I received:
Bed and Breakfast and Murder by Patti Larsen, Christina Gaudet, a Kindle freebie
Fiona Fleming is in so much trouble. Her recently inherited bed and breakfast might not actually be hers thanks to the underhanded misdealings of the local real estate bully. Despite her grandmother's last will and testament, Fee might be out of luck and on the street before she even gets settled. But when her new enemy floats belly up in her koi pond, she's the prime suspect in his murder! Can she uncover who the real killer is before the smoking hot new sheriff puts her behind bars instead of asking her out on a date?
Elizabeth Bennet's Wedding: A Pride and Prejudice Variation by Olivia Kane, a Kindle freebie
Miss Elizabeth Bennet and Mr. Fitzwilliam Darcy are due to be married in a few weeks time in a double wedding with Mr. Bingley and Jane in the local church at Meryton. But Lady Catherine de Bourgh, still smarting from the loss of her nephew Darcy as a husband for her daughter Anne, has her own ideas about their wedding day and she can't help but interfere. Will Darcy live to regret inviting Lady Catherine back into his life, or will Lady Catherine's plan to take a little revenge on Elizabeth unwittingly backfire on her?

Elizabeth Bennet's Wedding is a lighthearted, somewhat comic novel; in the spirit of the time frame, it is a genteel romance where only the tea is steamy.
Darcy and Fitzwilliam: A tale of a gentleman and an officer by Karen V. Wasylowski, a Kindle freebie
A gentleman in love cannot survive without his best friend…

Fitzwilliam Darcy and Colonel Fitzwilliam couldn't be more different, and that goes for the way each one woos and pursues the woman of his dreams. Darcy is quiet and reserved, careful and dutiful, and his qualms and hesitations are going to torpedo his courtship of Elizabeth. His affable and vivacious cousin, Colonel Fitzwilliam is a military hero whose devil-may-care personality hides the torments within, until he finds himself in a passionate, whirlwind affair with a beautiful widow who won't hear of his honorable intentions.

Cousins, best friends, and sparring partners, Darcy and Fitzwilliam have always been there for each other. So it's no surprise when the only one who can help Darcy fix his botched marriage proposals is Fitzwilliam, and the only one who can pull Fitzwilliam out of an increasingly dangerous entanglement is Darcy…
What did you receive?