Source: Mingmei Yip, the author
Paperback, 320 pages
I am an Amazon Affiliate
Skeleton Women's Heavenly Songbird Camilla returns in The Nine Fold Heaven by Mingmei Yip (check out Chapter One) after a quick exit from Shanghai in the 1930s into Hong Kong.  She's hiding out away from the gangsters she betrayed, but this once emotionless spy now must endure guilt and longing.  She does not know the fate of her love Jinying, nor of her lover Gao, but more importantly, she knows that her baby, Jinjin, is alive but not where he is.  Yip has a firm grasp of the atmosphere during this period in Shanghai, a time when gangs ran the government, businesses, and held everyone else at gunpoint.  The corruption, backroom deals, and fear permeate this novel, and Camilla is forced to return to Shanghai even though her life is clearly going to be in danger there.  Using her skills as a trained skeleton woman — which include seduction — she is able to disguise herself and create plausible stories on the spot, but the trick now is not to let her emotions rule her, which in some instances they do, leading to trouble.
"Unwilling to give up, I forced my tired feet to carry me into the hall and through the door to the next room.  Once I had stepped across the threshold, I noticed something different, even eerie, but I couldn't pinpoint what that was–except it came with an unpleasant smell.  Instead of rows of cribs as in the other room, this one had only one single large bed in which was what looked like a huge lump covered with a black cloud.  I couldn't tell what it was in the distance, but it was heaving like a collective heartbeat.  I went up to take a closer look." (page 102 ARC)
While Camilla searches for her baby, she's also searching for her lovers, but in the midst of her investigations she meets up with an American ambassador who could offer her protection from the gangs and falls into the hands of Rainbow Chang, a gossip columnist and head of the Pink Skeleton Women.  At many times, she is in danger, and in spite of this danger, she's confident she has the perfect plan for escape, but given that the novel is told from her point of view, readers also will hear her inner demons and learn of her shaky confidence.  Wallowing in self-pity becomes a mantra for Camilla early on in the novel, and it becomes a drone in the background even as the plot moves forward, making it difficult to like the protagonist.  However, her determination to find peace and her family are rewarding and helps build an emotional connection with the reader, especially given her sordid past as a skeleton woman and a sad orphan.
"So after seemingly endless gentle twisting in all the auspicious and inauspicious directions and angles, with the application of just a little strength, the lock finally surrendered with a long-awaited sigh of release.  I couldn't help but feel satisfaction at the culmination of my courtship of the lock."  (page 249 ARC)
The Nine Fold Heaven by Mingmei Yip is peppered with poetry, proverbs, and more, and it's a solid follow-up to Skeleton Women (which does not have to be read first), though the ending could be an opening for a third book.  Yip is talented and understands how to create a story that is deep in its passions and exciting in plot.  While Camilla can be hard to love, her plight is age-old.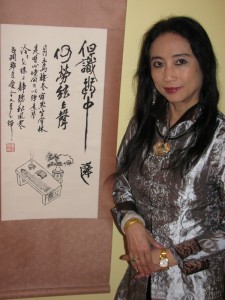 About the Author:
Kensington author Mingmei Yip believes that one should, besides being entertained, also get something out of reading a novel. Her new novel is Skeleton Women is about survival, letting go, and finding love and compassion.
Her debut novel Peach Blossom Pavilion is the story about the last Chinese Geisha and also that of courage and the determination to succeed and attain happiness. Her second novel Petals from the Sky, a poignant Buddhist love story, is about wisdom, compassion, when to persist and when to let go. Her third novel Song of the Silk Road is an adventure love story between an older woman and a younger man with a three million award on China's famous, dangerous route.
For more about the author and her books visit her Website, on Twitter, and on Facebook.