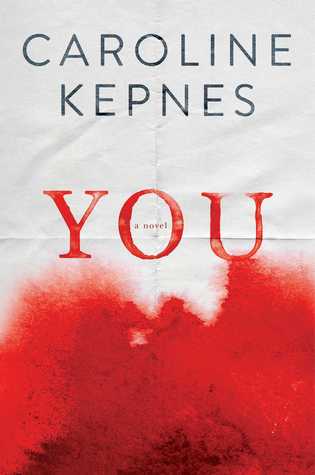 Source: Public Library
Hardcover, 422 pgs.
I am an Amazon Affiliate
You by Caroline Kepnes is creepy, obsessive, and twisted, and Joe Goldberg and Guinevere Beck are certifiable.  This thriller will pull you in and suck you dry, as Beck walks into a bookstore and flirts with the wrong man.  Kepnes has created two downright sinister characters who are perfect for each other and when circumstance brings them together, everyone around them better watch out.  Check your morals at the door with this one; these two are not redeemable, but you can't help but watch how everything unfolds between them and how it impacts those around them.  Truly one of the unsettling novels out there.  Kepnes' prose easily draws in the reader, making them wonder who this obsessive man is and why he's so drawn to this particular girl.
"'This will sound crazy, but I'm saving it.  For my nursing home list.'
'You mean bucket list.'
'Oh, no, that's totally different.  A nursing home list is a list of things you plan on reading and watching in a nursing home.  A bucket list is more like … visit Nigeria, jump out of an airplane.'" (pg. 8)
Through careful manipulation of social media and a few lucky breaks, this relationship begins to take a life of its own, and while both parties have their demons, it's clear that they cannot keep away from one another.  Even though you know throughout what will happen in the end, readers will be up late and turning pages in this psychological thriller.  Joe sees himself as a protector, someone charged with saving Beck from predators, but those predators are not who you'd expect them to be.  Meanwhile, Beck loves new things, and this love of wanting and being wanted is something that drives her incessantly.
"'There's no such thing as a flying cage, Joseph,' he said.  'The only thing crueler than a cage so small that a bird can't fly is a cage so large that a bird thinks it can fly.  Only a monster would lock a bird in here and call himself an animal lover.'" (pg. 47)
Joe is her opposite in that he obsesses over old things and continuously covets old books and collects old and broken typewriters.  He's waiting for social media to overheat and die, he prefers anonymity, but is it only because he feels unworthy or is it because it enables him to stalk and obsess more freely?  He hates pretentious people who live their lives for others and share everything with everyone, but he too is pretentious in that he's a book snob.  Dan Brown is not a good enough author, and people should be reading Paula Fox, and they should never pretend to read books.
For those who do not like graphic violence or sex, you should stay away.  You by Caroline Kepnes is riveting and disturbing.  What does it mean to be you?  What is your true self and do you share that with everyone or only a special few?  And what if the real you is scary?  Do you share that self with anyone? Lock it up? Or simply let it out?
About the Author:
Caroline Kepnes is the author of You and Hidden Bodies. She splits her time between Los Angeles, California and Cape Cod, Massachusetts.
Find her on Facebook.