I'm sure all of you have either completed or have nearly completed your holiday shopping, but I wanted to recommend a couple of poetry books for the readers on your lists.  These books are accessible and could widen the scope of reading of your loved ones and maybe even yourself.
Wild Place by Erica Goss is a stunning chapbook collection that visually renders the wildness within ourselves through a series of images stick with you long after you read the verse.  One look at that cover can tell you the kind of raw power Goss uses in her poetry to explore how humanity can impair nature, but she also talks a little bit about history, particularly in her poems about Berlin, and the hardships of emigrating to another country.  In my review, I said, "Wild and untamed, the verse sings the beauty in the blame as humanity encroaches on nature, sometimes leading to its destruction and at other times unveiling the beauty beneath the scars."
When My Brother Was an Aztec by Natalie Diaz examines the often ignored struggles of Native Americans in the modern world, particularly as they try to integrate into mainstream society.  The kids who are around white students in school are looking to be like their peers, while at home, their parents trying to hold onto their cultural traditions.  Diaz has a frankness in her verse as she not only tackles drug addiction, but also Native American myths and ancestry.  While these poems are steeped in culture, there also is a universality to the lines that make them accessible to people of all cultures.  I consider Diaz's book "a glimmering debut collection that hums in the back of the mind and generates an emotional aftermath that will leave readers speechless."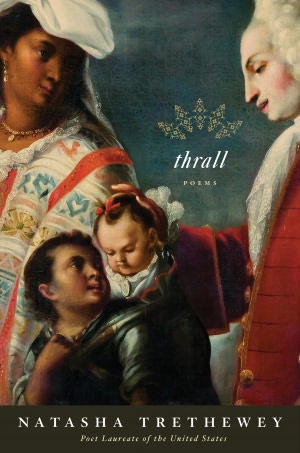 Of the two Natasha Trethewey books I've read this year (though one was a reread), this is the one that has impressed me the most and has caused me to reassess some things.  Thrall is an even more mature combination of the personal and historical than Native Guard is.  While her earlier collection examines the struggles of a mixed race child, the latest collection builds upon those insights to create a wider historical record of mixed race children and how they are viewed by their parents and history.  My review indicated, "While her reading can enthrall you and bring you near tears, her careful word selection in each poem will ensure that you reflect on the meaning of each line in each verse before you even think about the overarching themes of separation and connection as well as their juxtaposition."
I hope that you'll consider these collections as you do your holiday shopping and have a great holiday, everyone.