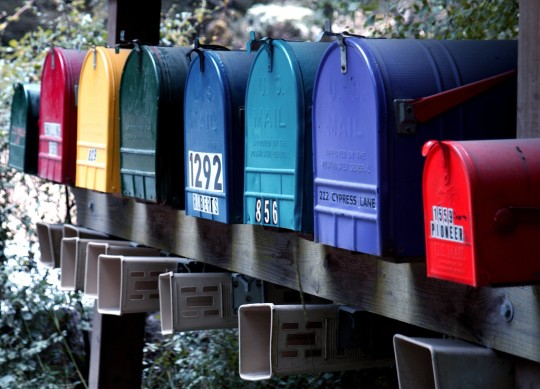 Mailbox Monday has become a tradition in the blogging world, and many of us thank Marcia of The Printed Page for creating it.
It now has its own blog where book bloggers can link up their own mailbox posts and share which books they bought or which they received for review from publishers, authors, and more.
Emma, Martha, and I also will share our picks from everyone's links in the new feature Books that Caught Our Eye. We hope you'll join us.
Here's what I received:
Trace by Melanie Figg, which I purchased at the Takoma Park Poetry Reading series.
Poetry. Women's Studies. Figg's is a collection that embraces and experiments with the multiple meanings of the title: without a trace, tracing, trace elements, etc., and with multiple female figures: mother, sister, girl, woman in an insane asylum, and so on. There is a ghostliness here embodied in the poems' palimpsestic layers of feminist meaning and in the variety of interpretation inherent in its verse.

"In language so lovely, rich, and full of voices that seem out of another world, this book of departures also opens many doors. Each door lets in a wild wind of longing, loss, gods, myths, war, and ragged humanity. We find ourselves in a museum maze with one entrance and one exit but that final exit, we do not want to take. It is art that speaks us through, speaks witness, speaks desire, tells us there are other worlds in an ending world. We can move beyond if we are only brave enough to endure the moment of departure."–Heid E. Erdrich

"The stunning poems in Melanie Figg's debut full-length collection, TRACE, exist in a sublime and terrifying world filled with visual art, human atrocity, and a complex family history, including a sister that serves as a mirror and window into the forces that formed them both. These poems are breathtaking in their braided complexity, unwillingness to settle for two-dimensional revelation, and ability to face the abyss and sing, symphonically, into it. The two long, sectioned poems, 'Untitled' and 'Leaving a Trace,' are the crowning jewels of this book and illuminate Figg's tremendous gift on the page, 'forming perfect sentences / of evidence and sorrow.'"–Allison Benis White

"'You can pray if you want to,' says Melanie Figg in her ravishing debut collection TRACE, 'but the wind / makes its own halting pleas.' TRACE is a collection of metamorphosis, of things becoming more than they are and the liminal spaces between transitions. Figg explores the stains of history both global and personal as well as the mythos of love to reveal the vestiges of light inherent in all. 'Better to unmuscle and move through / a field of wildflowers you cannot name,' she concludes. TRACE is a revelation."–Quan Barry
Still Life by Katherine J. Williams, which I purchased at the Takoma Park Poetry Reading series.
Katherine J. Williams writes with an artists's eye, candidly and exquisitely exploring moments of beauty, tenderness, doubt, and devastation. These poems from one life become a celebration of the human capacity for joy in its complexity. Readers will recognize themselves in Still Life, and will find ways to understand the world anew.

"With rich sensory detail and a keen perception of the natural world, Katherine J. Williams explores absence and presence and affirms that even after great loss, life is Still Life. Through the roles of daughter, mother, wife, widow, grandmother, and contemplative, she explores how sorrow 'ties us to each other, wears our edges smooth, and over and over washes the world, leaving us rinsed and clean'". -Ellen Bass, author of Indigo

"Katherine Williams' poems have a crystalline quality, polished and honed over time. Yet they retain the rare ability to capture fully that moment when 'something new flames into being', surprising both writer and reader alike. Each poem brings glinting new insights to the surface, and I have no doubt her work will be read with relish for many years to come".-James Crews, Poet and Editor of The Path to Kindness: Poems of Connection & Joy

"Elegance, intelligence, and a deep and tender wisdom run through this marvelous and much-anticipated debut collection. Katherine Williams asks us to slow down, to pay ever more close attention, as she explores family lore, mortality, the truths our bodies tell us, and the subtle unfolding mysteries of the natural world. Page after page, these clear-eyed and open-hearted poems unfurl their lyrical surprises. This is an achingly beautiful book". – Rose Solari, co-founder of Alan Squire Publishing, author of The Last Girl.
Metabolics by Jessica E. Johnson, which came for review in March.
Metabolics, a book-length poem, borrows the movements of metabolic pathways to consider how nature accomplishes both balance and deep transformation. In visual figures and prose blocks that bridge the divide between poetry and nonfiction, Jessica E. Johnson employs scientific idioms to construct an allegory about a family in the Pacific Northwest. The region becomes a character in its own right, with cedars, moss, and heavy cloud knitting the mother, father, boy, and girl into their setting.

This far-reaching volume also serves as a study of the ecologies of contemporary parenting, with adults and children affected by "feeds" both on screen and off as their bodies metabolize food, the environment, and excess feelings such as rage. From climate change to kombucha to smartphones and curated produce, the smallest details of daily life in "Plasticland" catalyze a larger examination of selfhood: "Despite so many attempts to resolve this tension, sometimes you are you and also sometimes mother just as light can be both particle and wave."
What did you receive?