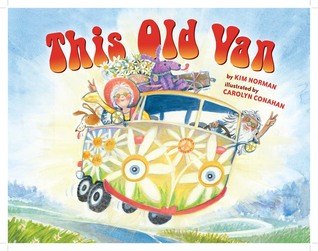 Source: Sterling Children's Books
Hardcover, 30 pgs
I am an Amazon Affiliate
This Old Van by Kim Norman, illustrated by Carolyn Conahan, is a fun re-imagining of the old song, "This Old Man," which my daughter happens to love, especially when Anna sings it.  In this VW-looking van all tricked out in flower-power aesthetics and an old man and lady behind the wheel who have to be grandma and grandpa, little kids will be unable to take their eyes off this traveling duo as they wonder where are they going?!  My daughter loved hearing a new rendition of the song she knows, and was curious to see what happened next because she knew it wouldn't be the same.
Young readers can count along with the grandparents in the van, and they can ask questions about what these people pass on the road to their destination, which you know has to do with grandkids, right?  Traveling as quickly as they can, these grandparents have quite a few adventures as they count to ten, just like in the song.
This Old Van by Kim Norman, illustrated by Carolyn Conahan, has some great colors and a great story.  There was a little explanation by the end as to what a derby is, but she loved reading this one too.  We've probably read this one 10 times.  That's two winners in a row from Sterling.
About the Author:
Kim Norman is the author of more than a dozen children's books published by Sterling, Scholastic and two Penguin imprints. Titles include Ten on the Sled, (Sterling) which spent weeks on Barnes and Noble's Top Ten bestseller list and has been released in Korean and German editions as well as appearing in Scholastic Book Fairs in schools around North America. I Know a Wee Piggy, was reviewed in the New York Times, and is listed on the Texas "2×2 Reading List," as well being offered by Dolly Parton's Imagination Library.  Kim has a long history of theater & musical performing, which she enjoys including in her school visits and presentations.