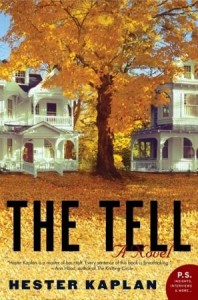 The Tell by Hester Kaplan unfolds like a stop-motion movie, one frame at a time, and in that movie there are flashes of the past.  Owen Brewer's attention is easily swayed from one subject and one moment to another, breathing in both the past and present of his life, while at the same time observing the behaviors and ticks of others.  His marriage to Mira Thrasher is modern and telling, especially in how they introduce themselves to the new neighbor and former actor Wilton Deere.  Their marriage does not seem to be on solid ground, just from the way Owen watches the interaction of his wife and Wilton and thinks about reclaiming her in the most instinctual way.  Owen is tough to take and analyzes a great many things much more than other people would, while Mira is more a take-it-as-is girl and enjoys the moments, while not watching for the sky to fall.  Meanwhile, Wilton is trying to reconnect with his daughter, but in the process clings to this married couple next door because he longs to be loved and hated.
"Owen leaned into the sink and gulped water, leady and lethal, from the tap. Then some movement of white, gone before he could fully detect or confirm it, drew his eye past the unfurling pleasure of the lilacs to the empty house next door. Its windows were violet mirrors. In the year since the place had been on the market, Owen had sometimes used the house to animate wisps of his imagination they way people used empty battlefields. Where they saw the fuming charge across the hard-packed earth, the clash, the fallen in the grass, the victorious mob shaded by incoming clouds, he pictured his future children on the oak stairs, bodies passing in front of doorways, and the motion of family life he hoped to have here in this house, someday, with Mira." (page 3 ARC)
Kaplan's novel is psychologically complex.  Mira is an artist, struggling to keep her studio open and helping give direction to the elderly, young, and even homeless.  At the same time, she is hardly home when she is with Owen, and most nights, she's off at the casino with Wilton, though she claims she does not have a gambling problem.  Kaplan explores the breakdown of trust between a husband and wife, the rebuilding of faith between an estranged daughter and father, and the power of addiction and obsession.  Each person has a "tell" — which in gambling is a change in a player's behavior or demeanor that can give clues to other players about the truth of their hand — and in this case, Owen is trying to discern Mira's tell, while navigating a new and untested friendship with a man he presumes is trying to get a little closer to his wife.  With Wilton, the task of determining the tell is more difficult as Owen cannot determine if he is telling the truth, acting, or a combination of both, though Owen in many cases errs on the side of Wilton telling lies.
"It was like standing still while a very fast train blew by you and lifted your hair.  What remained was what had been forgotten or abandoned:  a towel in the bushes, a single sneaker, a cat, a brightly colored plastic ring still drifting on the pond."  (Page 100 ARC)
Kaplan's novel unfolds with careful precision as she delves deeper into the spiraling vortex of Owen's marriage with Mira, and his obsession with her family's hording and her secret trips to the casino.  Each is scared to be alone, but not scared enough to stop their behavior from ruining everything.  Kaplan's The Tell is dark and woeful, her characters are swimming in a dark pool and clinging to any hope they see, no matter how fleeting or false it may be.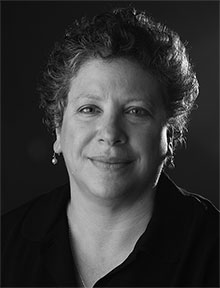 About the Author:
Hester Kaplan is the author of The Edge of Marriage, which won the Flannery O'Connor Award for Short Fiction, and Kinship Theory, a novel. Her short stories have been included in The Best American Short Stories series. She teaches in Lesley University's MFA Program in Creative Writing and lives in Rhode Island.
Find out more about Hester at her website. You can also follow her on Facebook and Pinterest.

This is my 2nd book for the 2013 New Authors Challenge.