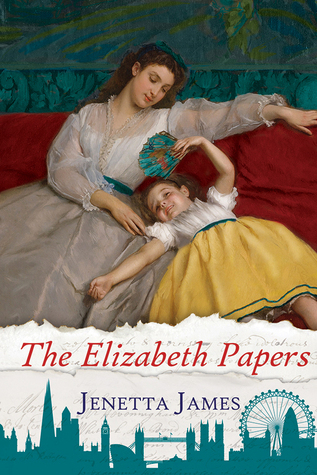 Source: the author
Ebook, 229 pgs.
I am an Amazon Affiliate
In The Elizabeth Papers by Jenetta James, Evie Pemberton has realized part of her dream with her first art show. Despite the trials of her life, she is unaware that a storm is brewing, one that has been forming for generations as rumors have rippled up into a tidal wave set to overtake her. Enter the confident London-based private investigator Charlie Haywood, he finds himself awed by her beauty at the art show and he's unable to craft a new persona through which he can uncover the truth of her family. Even though he is tongue-tied, Charlie still learns about the Darcy Trust and the possibility that Evie's ancestors may not be entitled to its endowment.
"We live in a world, Galbraith, where a woman has only that which fortune has given her. She cannot shift for herself as a man can, and I have come to fear, that in time, and in future generations, the largesse which I gave them may be diminished."
James creates a novel in which readers can see how newly married Mr. and Mrs. Darcy interact with one another, how her family impacts her relationship with her new husband, and the insecurities that plague her as a new mother, wife, and lady of Pemberley. While Darcy and Lizzy still tease each other and remain happily married, there are pressures from society that seep in the cracks, causing discord for them. Charlie and Evie's story is a straight forward mystery, and as Charlie and Evie grow closer to the truth of a generational mystery, they also grow closer to one another. While the modern story seems a bit rushed in places, their romance is believable. James' portrayal of a married couple and pregnancy is very realistic, and will have readers wondering how anyone survived pregnancy in the Regency period.
"I am tired and my back aches like the low moan of an orchestra tuning up."
The Elizabeth Papers by Jenetta James is a wonderful mystery that unravels, tugs at the emotions, and realistically portrays marriage and motherhood. James knows Austen's characters, and she explores a number of societal norms from inheritance of estates by male heirs to familial bonds that go beyond biology.
RATING: Cinquain
About the Author:
Jenetta James is a mother, lawyer, writer, and taker-on of too much. She grew up in Cambridge and read history at Oxford University where she was a scholar and president of the Oxford University History Society. After graduating, she took to the law and now practises full-time as a barrister. Over the years, she has lived in France, Hungary, and Trinidad as well as her native England. Jenetta currently lives in London with her husband and children where she enjoys reading, laughing and playing with Lego. She is the author of Suddenly Mrs. Darcy which was published by Meryton Press in April 2015. The Elizabeth Papers is her second novel.