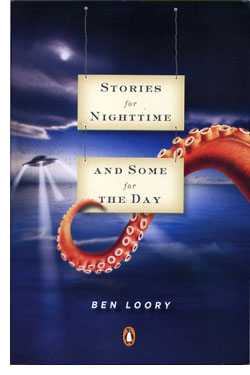 Stories for Nighttime and Some for the Day by Ben Loory brings back the parable, the allegory, and the fable in an absurdist manner — think Animal Farm meets the Myth of Sisyphus and Paul (particularly with its comedic attributes and alien encounters). Each story is about 20 pages long, but is utterly absorbing. Readers will fall head first over a cliff into these stories and as the waters of Loory's prose wash over them, they will be in a new fantastical world where anything is possible no matter how impossible. At the end of each story, readers will have to either shake off the fantasy or simply continue delving into the worlds Loory has created without pause.  Coming back up to reality can be tough, but each story is worth the moments of initial fuzziness.
There are televisions and animals that talk quite animatedly with humans, as do aliens and trees.  And some of these characters have very set-in-stone opinions, and on more than one occasion, those opinions are proven wrong or even turned upside down in just a few lines.  Loory's prose shies away from the poetic and flowery language used by other writers, but in his sparse lines, there is a depth of philosophical intent and even just a joking nature to be uncovered.   Readers will be giggling, smiling, and scratching their heads, but either way, these short stories will impact their thinking and mood for the better.  Do not be fooled, however, by the seemingly tongue-in-cheek style Loory uses because there are darker elements, which are nicely reflected in the deep, dark blue in the cover and the imposing octopus tentacle.
The Shadow

"ONCE THERE WAS A MAN WHO WAS AFRAID OF HIS shadow.
    Then he met it.
    Now he glows in the dark." (page 58)
The ominous feeling in some of these stories is haunting, like in the way that "The Tunnel" resembles the darkness that Stephen King easily creates as a gang of kids follows a killer clown into their town's sewers in It.  The impossible becomes possible in these stories, and Loory's words touch upon faith, love, loss, and the darkness within the human spirit — there is a logic to be found in absurdity.
In "The Poet," the man writes a poem and becomes angered when it is rejected, but even before he sent it out, he knew it wasn't that good.  Rather than revise it, he self-publishes it and posts and hands out his xeroxed copies to passersby.  Here Loory seems to be indicating the absurdity of demanding to be published even if the work is poorly written.  However, looking deeper, the story seems to be talking about the dedication it takes to become a good writer and that not being published shouldn't matter if good writing is the goal.
Stories for Nighttime and Some for the Day by Ben Loory speaks to the inner child, coaxing it out from behind the adult into a fantastical world of monsters and talking animals only to slap that child back into place and point out the absurdity of blind categorization and conviction that many of us cling to steadfastly in adulthood.  There is a world of possibilities in this short story collection and readers will be blown away by Loory's imagination and ability to create new myths to break down and rebuild.
About the Author:
Ben Loory lives in Los Angeles, in a house on top of a hill. He was born in Dover, New Jersey, and is a graduate of Harvard College. In November 2008, his story "Photographs" was a finalist in the Glimmer Train Short Story Award for New Writers Contest. Since then his fables and tales have appeared online and in print in journals and magazines of all shapes and sizes, ranging from literary to fantasy, humor to horror, young adult to SF to sports-related and more.
***Thanks to Unabridged Chick for making me want to read this (check out her review)***
This is my 3rd book for the 2012 New Authors Challenge.