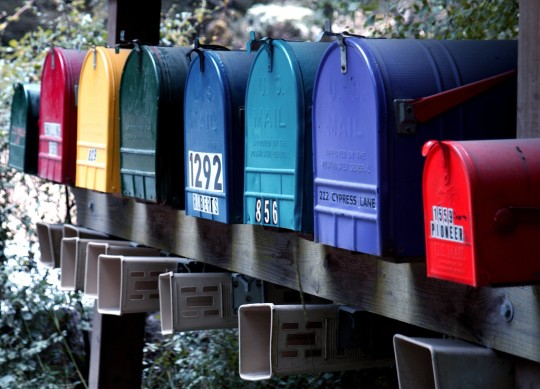 Mailbox Monday has become a tradition in the blogging world, and many of us thank Marcia of The Printed Page for creating it.
It now has it's own blog where book bloggers can link up their own mailbox posts and share which books they bought or which they received for review from publishers, authors, and more.
Leslie, Martha, and I also will share our picks from everyone's links in the new feature Books that Caught Our Eye. We hope you'll join us.
Here's what I received:
Persuasion: Behind the Scenes by Maria Grace and Susan Mason-Millk, a freebie.
You pierce my soul.

Before Jane Austen wrote that romantic letter from Captain Frederick Wentworth to Anne Elliot, she crafted a masterful story of heartbreak and longing that still resonates with readers today.

But what of those scenes that Jane Austen never wrote? What Persuasion fan doesn't want to listen in on Anne and Wentworth's first courtship, laugh at the follies and foibles of the Elliot family, sail along on Captain Wentworth's harrowing adventures at sea or attend Wentworth and Anne's wedding.

Twelve authors of Austen-inspired fiction: Diana Birchall, Marilyn Brant, Jack Caldwell, L.L. Diamond, Maria Grace, Cassandra Grafton, Kara Louise, Susan Mason-Milks, Jane Odiwe, C. Allyn Pierson, Mary Lydon Simonsen, and Shannon Winslow collaborated to put this unique collection that fills in "missing" scenes from Austen's classic work, sure to delight any true Persuasion fan.
Jane and the Visitors from Pemberley by Margaret Lynette Sharp, a freebie.
A Short story — Fifteen-year-old Isobel, the youngest daughter of Jane and Charles Bingley, is overjoyed when, despite her mama's misgivings, she is allowed to go on holiday with her friends at Brighton. Will this high-spirited young woman somehow manage to behave with uncharacteristic decorum? Or will history repeat itself?
Liz and Darcy, Part 1 Boardroom Battle by Kelsie Fann, a freebie.
Will Darcy's pride bankrupt Liz?

When Liz Bailey discovers she only has 24 hours to save her southern media company, she leaps to the quickest solution: find a buyer, fast.

Chicago based investor Darcy Williams isn't interested in the poorly run business. . . until his nemesis shows up.

The new buyer instantly attracts Liz. He's beautiful, charming, and he has deep enough pockets to save the company.

Except he's broke, and Darcy knows it. Now Darcy has to chose. Does he care enough to save Liz's company? Or should he leave and let her deal with the fallout?

Will Darcy let himself fall into the land of sweet tea and seersucker before it's too late? Or will the clock run out on Liz's southern charm?
Love and Other Machines by Alix James, a freebie.
Her life was going smoothly until love threw a wrench into it.

Her uncle's pet and her mother's trial, Elizabeth Bennet has always been… different. Blessed with a quick mind and a knack for all things mechanical, sometimes the simplest things—like love—are harder for her to fix.

Fitzwilliam Darcy is anything but simple. A gentleman by birth but an engineer at heart, he wastes no time in dismantling Elizabeth's secret. The gentleman, however, has secrets of his own that cause him to linger, to falter, and then to risk everything.

A chance journey with Elizabeth's uncle to Mr Bingley's factory in Birmingham had seemed the ideal opportunity to indulge her fascination without risk to her reputation. But a lady of gentle birth and modest means must never tinker with machinery, and most certainly should not have grease on her cheek.

What began as a mechanical challenge becomes a personal test when rioters and old enemies turn the tables. Can Elizabeth and Darcy work together, or will the gears spin out of control?
Such a Fun Age by Kiley Reid, Nicole Lewis, purchased from Audible.
Alix Chamberlain is a woman who gets what she wants and has made a living, with her confidence-driven brand, showing other women how to do the same. So she is shocked when her babysitter, Emira Tucker, is confronted while watching the Chamberlains' toddler one night, walking the aisles of their local high-end supermarket. The store's security guard, seeing a young black woman out late with a white child, accuses Emira of kidnapping two-year-old Briar. A small crowd gathers, a bystander films everything, and Emira is furious and humiliated. Alix resolves to make things right.

But Emira herself is aimless, broke, and wary of Alix's desire to help. At 25, she is about to lose her health insurance and has no idea what to do with her life. When the video of Emira unearths someone from Alix's past, both women find themselves on a crash course that will upend everything they think they know about themselves, and each other.
Seed by Ania Ahlborn, Eric G. Dove, purchased from Audible.
With nothing but the clothes on his back – and something horrific snapping at his heels – Jack Winter fled his rural Georgia home when he was just a boy. Watching the world he knew vanish in a trucker's rearview mirror, he thought he was leaving an unspeakable nightmare behind forever.

Now, years later, the bright new future he's built suddenly turns pitch black, as something fiendishly familiar looms dead ahead.

Surviving a violent car crash seems like a miracle for Jack's family, but Jack knows there's nothing divine about it. The profound evil he uncovered as a boy has finally found him again. The thing that crouched at his bedside with soulless eyes and grinning, razor-sharp teeth is back with plans for Jack and his angelic youngest daughter, and a chilling promise: I've always been here, and I'll never leave.
Wasted Words by Staci Hart, a freebie.
Some universal truths refuse to be ignored.

Peanut butter and jelly are a match made in heaven. Spaghetti and meatballs are best friends forever. And guys like Tyler Knight don't go for girls like Cam Emerson.

She knew from the second she met him that he didn't belong on her bookshelf, the six-foot-six ex-tight end with a face so all-American, it could have sold apple pie. So she shelved him next to the supermodels and rock stars and took her place on her own shelf — the one with the flannel-clad, pasty-faced comic book nerds. Most of her boyfriends have existed between the pages of books, but rather than worrying over her own lacking love life, she puts all her energy into playing Cupid, using her job at the book bar, Wasted Words, as her stomping ground.

Tyler Knight always looks on the bright side. His career-ending injury turned into a job as a sports agent. A horrible breakup led him to Cam, his quirky, smart roommate who is far more beautiful than she realizes. She's made it perfectly clear she's not interested in him — not like that at least — but if she ever changes her mind, he won't hesitate. Because he doesn't see the lines she's drawn between them, as much as she insists that they're there. Deep down he knows that despite their differences, they're a match well made.
What did you receive?