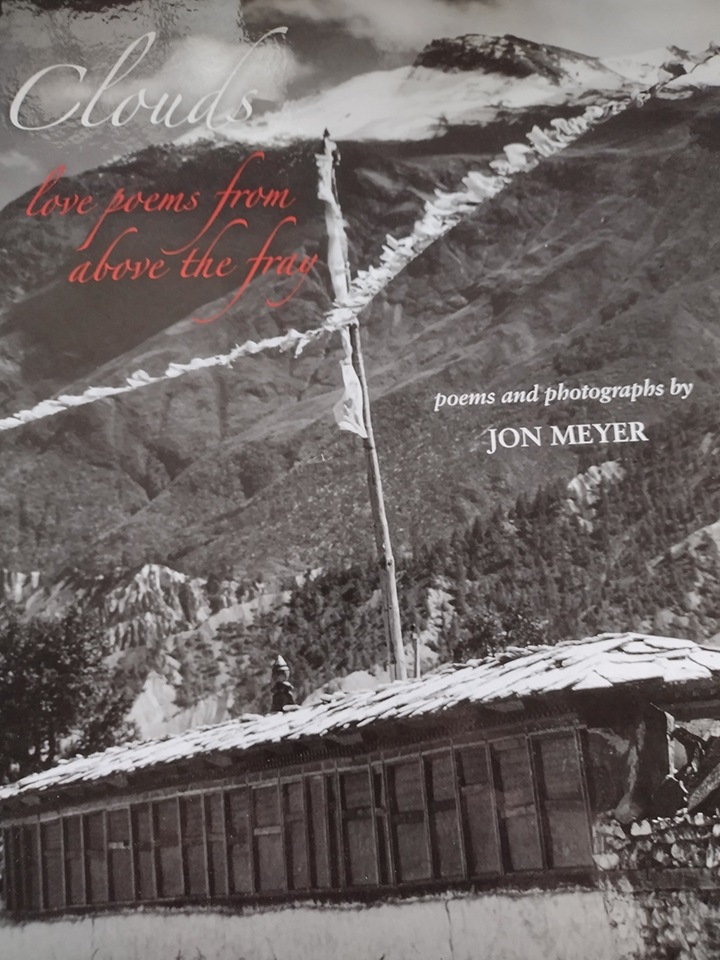 Today's guest post is from Jon Meyer, author of Clouds: love poems from above the fray, which is a available digitally or as a coffee table book.
Here's a little more about the book:
Clouds: love poems from above the fray features beautiful black and white photographs from around the world, paired with Jon's reflective and inspirational poetry and stories behind the photographs. One such story explains the unforgettable experience behind Jon's photo of a small plane surrounded by the snow-capped Himalayas in Nepal:

After sitting in the tiny airport in Pokara, Nepal for 5 hours, I started to get restless. We still had not taken off to fly up into the Himalayas.  So, I asked a man wearing a pilot's uniform when we would board and take off. "When I can see blue sky," he replied, "because in Nepal, the clouds have rocks in them." (Jon Meyer, 2022) (#21)
Please give Jon Meyer a warm welcome:
Photography for use with poetry requires patience, sometimes requiring hours of waiting for the right light or having a cloud in the right place, or even the position of a cold midnight reflection.

Traveling to take a photograph can be a macro or micro adventure. The micro may be just walking around the corner or into a nearby forest. A macro adventure sometimes requires visiting a new country, learning about new (to me) cultures, or finding places that illustrate previous writing. Capturing the right image may require climbing mountains, flying to remote destinations, trudging through mud or snow, riding in a car on a steep mountain road without guard- rails and having the brakes fail, or even barely avoiding an avalanche.

The latter experience occurred when trekking in the high Himalaya and taking photos of their magnificent snow- covered peaks. The tiny villages along the Annapurna Circuit trek in Nepal are basic. The most prosperous of the small dwellings are made of carefully placed stone, and some are covered with whitewash. At the time that I was there, my guide and I stayed overnight in hut/ homes with minimal heating that consisted of a cooking fire inside, and most villages at altitude did not have electricity nor running water. The villagers were always welcoming and gracious with Namaste greetings to all strangers. We were happy to take shelter from the night's wind and cold. The views of the ice- covered Himalayan peaks remain unsurpassed. Homes are now starting to acquire solar for lighting and essentials.

We passed by the prayer flags in the cover photo for Clouds on our trek up toward Thorong La, the world's highest pass at 18,000 feet (over 5,400 meters). That morning, we had a good start before dawn, and by 10 AM we were well above the tree line at 16000 feet in a steep valley. Above us to the left was a peak with a sheer, high degree inclination, and on that smooth stone face was a thick ice field extending down from 26,000 feet to just above the rock- strewn trail we were scrambling on. The continuous ice was more than a mile wide.

By this time of morning, the strong sun was out with scattered clouds, similar to those in the photo. As we passed below the ice field, my guide and I both noticed the increase of water pouring down the smooth black mountain from below the ice field. It was really a rushing river. A shiver shook my body at the thought that in a moment the whole ice field could collapse, avalanche down, and cover the narrow valley we were in.

We looked for large boulders to crouch behind if the ice let go, but there were few with no guarantee that the ice wouldn't roll them over us if we took cover there or back down the trail. So, we increased our pace but the altitude's reduced oxygen made progress slower than necessary. With help from adrenaline, we pushed on and up. It was like a dream of running as fast as possible but still very slowly. When I was in High School, I ran sprints while on sports teams. The longest I could go was less than 30 seconds all out. This time, after 45 minutes of a maximum effort slow sprint and my repeating Love's name with great intensity, we reached a point on the trail out of peril.

Just then I heard a loud crack, like a rifle shot too close to my ear. The ice field had let go, and cascaded down over the trail where we had just been. Since we were now 'above the fray' my stress and determination changed to gratitude. The Ancient One, Lord of the Mountains sent a lesson and a message, "Now that's the way to remember Me always."

Clouds: love poems from above the fray has been a project spanning more than four decades containing poems influenced by visiting many places, giving lectures, and witnessing beautiful vistas, in towns, cities, and above all, in nature. Over my career, I have been invited to speak at universities and cultural centers across the US and in a number of other countries, and I took photographs while in those places. Thousands of those photos are now in my archive. Hundreds of five- line quintain poems were written down, from which 64 were chosen for Clouds. These were then matched with photos in my archive.
Thank you, Jon, for sharing your poetry, photos, and stories.
About the Poet:
Jon Meyer has written for The Village voice, ARTnews, ARTS, New Art Examiner, Visions Quarterly, CRITS, Q, Dialog, Art New England, Fictional Café, and many more publications. As Department Chair, Meyer led a small team producing a film about one of his students, Dan Keplinger. This film, King Gimp, won the Oscar for best short documentary at the 2000 Academy Awards. Meyer's work has been in 60 solo and group exhibitions (18 museum exhibitions) and 20 museum/public collections globally. He has received 12 grants, including a National Endowment for the Arts grant.