Mailbox Monday, created by Marcia at To Be Continued, formerly The Printed Page, has a permanent home at its own blog.
To check out what everyone has received over the last week, visit the blog and check out the links.  Leave yours too.
Also, each week, Leslie, Vicki, and I will share the Books that Caught Our Eye from everyone's weekly links.
Here's what I received:
1. The House on Mermaid Point by Wendy Wax for review.
Maddie, Avery, and Nikki first got to know one another—perhaps all too well—while desperately restoring a beachfront mansion to its former grandeur. Now they're putting that experience to professional use. But their latest project has presented some challenges they couldn't have dreamed up in their wildest fantasies—although the house does belong to a man who actually was Maddie's wildest fantasy once . . .

Rock-and-roll legend "William the Wild" Hightower may be past his prime, estranged from his family, and creatively blocked, but he's still worshiped by fans—which is why he guards his privacy on his own island in the Florida Keys. He's not thrilled about letting this crew turn his piece of paradise into a bed-and-breakfast for a reality show . . . though he is intrigued by Maddie. Hard as that is for her to believe as a newly single woman who can barely manage a dog paddle in the dating pool.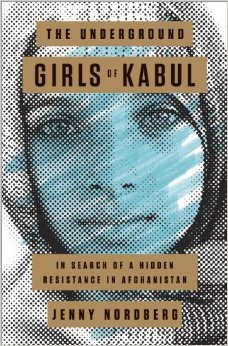 2.  The Underground Girls of Kabul by Jenny Nordberg from LibraryThing Early Reviewers.

In Afghanistan, a culture ruled almost entirely by men, the birth of a son is cause for celebration and the arrival of a daughter is often mourned as misfortune. A bacha posh (literally translated to "dressed up like a boy" in Dari) is a third kind of child – a girl temporarily raised as a boy and presented as such to the outside world. Jenny Nordberg, the reporter who broke the story of this phenomenon for the New York Times, constructs a powerful and moving account of those secretly living on the other side of a deeply segregated society where women have almost no rights and little freedom.
3.  One Evening in Paris by Nicolas Barreau, an unexpected surprise from St. Martin's Press.

Alain Bonnard, the owner of a small art cinema in Paris, is a dyed-in-the-wool nostalgic. In his Cinéma Paradis there are no buckets of popcorn, no XXL coca-colas, no Hollywood blockbusters. Not a good business plan if you want to survive, but Alain holds firm to his principles of quality. He wants to show films that create dreams, and he likes most of the people that come to his cinema. Particularly the enchanting, shy woman in the red coat who turns up every Wednesday in row 17. What could her story be? One evening, Alain plucks up courage and invites the unknown beauty to dinner. The most tender of love stories is just getting under way when something incredible happens: The Cinéma Paradis is going to be the location of Allan Woods' new film Tender Memories of Paris. Solène Avril, the famous American director's favourite actress, has known the cinema since childhood and has got it into her head that she wants the film to be shot there. Alain is totally overwhelmed when he meets her in person. Suddenly, the little cinema and its owner are the focus of public attention, and the red-plush seats are sold out every evening.
What did you receive?