Mailbox Monday has become a tradition in the blogging world, and many of us thank Marcia of The Printed Page for creating it.
It now has it's own blog where book bloggers can link up their own mailbox posts and share which books they bought or which they received for review from publishers, authors, and more.
Leslie, Martha, and I also will share our picks from everyone's links in the new feature Books that Caught Our Eye. We hope you'll join us.
Here's what we received:
The Elsewhere: Poems & Poetics by Philip Brady for review.
The Elsewhere is a new book with a long history. In a new arrangement of three books of poetry, a verse memoir, a poetic prose memoir, and essay collections on poetics, as well as new poems, The Elsewhere re-scores a life alert to the workings of line and sentence upon eye, heart, breath, and the world.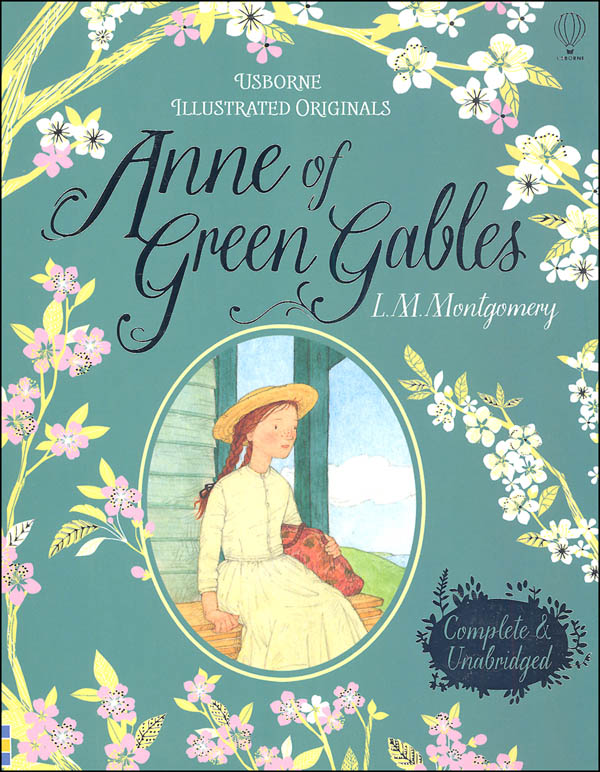 Usborne Illustrated Originals: Anne of Green Gables by L.M. Montgomery, which was a gift for my daughter's birthday.
Anne Shirley, a mistakenly adopted orphan falls in love with Green Gables. Despite her hot temper, vivacious imagination, and gift of making amusing bobbles, she slowly wins the hearts of her adoptive parents. In this beautifully written and illustrated book, the reader is sure to be entertained for hours by Anne and her comedic conundrums. This version is complete and unabridged.
Usborne Graphic Classics: The Wizard of Oz by Russell Punter and Simona Bursi, which was a gift for my daughter's birthday.
After Dorothy's house is carried off by a tornado, she finds herself in the strange and magical Land of Oz. With the help of her new friends the Scarecrow, Tin Man, and Lion, she must persuade the Wizard of Oz to help her get back to Kansas. L. Frank Baum's timeless fantasy is beautifully recreated in this enchanting graphic novel.
Real-Life Mysteries: Can You Explain the Unexplained? by Susan Martineau and Vicky Barker, which was a gift for my daughter's birthday.
WINNER OF THE BLUE PETER BOOK AWARD 2018 – Best Book with Facts. Have you ever wondered what exactly does go bump in the night? From mysteries like Shackleton's ghostly companion to the Loch Ness Monster and friends, read the amazing evidence about these mysterious cases and make up your own mind. Things are not always what they seem – until they are, then you might wish you had never asked!
No Worries! An Activity Book for Young People Who Sometimes Feel Anxious or Stressed by Dr. Sharie Coombes, which was a gift for my daughter's birthday.
No Worries! Mindful Kids: The encouraging and simple activities and exercises tackle anxiety, sadness and stress; children will enjoy using their creativity to combat negative feelings, work out why they feel worried and how to put stress back in its place through writing, colouring, doodling and drawing.
Forensic Science by Alex Frith, Kuo Kang Chen, Lee Montgomery, Stephen Moncrieff, and  Sherwin Schwartzrock, which was a gift for my daughter's birthday. 
Explains how forensic scientists use different evidence to solve crimes, and presents true-crime cases in comic book format.
Never Get Bored: Draw and Paint, which was another gift for my daughter's birthday.
Discover how to doodle a sloth, turn pencil shavings into pictures and draw in ways you never imagined. Then try printing, spattering paints and painting with dots. There are ideas for portraits, patterns, optical illusions and more, so you'll soon have enough artworks for your own exhibition — and this book will show you how to stage one too.
The Mystery of the Painted Dragon by Katherine Woodfine, which was a gift for my daughter.
The Mystery of the Painted Dragon is the third novel in The Sinclair's Mysteries book series by British children's author Katherine Woodfine published by Egmont Publishing. The novel is the third book in a four book mystery-adventure series set in Edwardian England.
History Uncovered: The U.S.A. by Kristine Carlson Asselin, which was a gift for my daughter.
This stylish atlas features key moments of American history in an innovative format, with each die-cut spread building on the last as more states are added to the union, culminating in a modern-day map of America. From the 1700s through today — one layer at a time — it's filled with dates, facts, and historical figures.
A Life Worth Choosing by Anngela Schroeder, which I won in a giveaway.
"You could not have made me the offer of your hand in any possible way that would have tempted me to accept it." Reeling from the unexpected rejection of his proposal, Fitzwilliam Darcy prepares to quit Hunsford for London but not before he defends himself against Elizabeth Bennet's accusations. He cannot forgive her harsh words; her assertion Mr. Wickham would have made a better son has cut him to the core. Suffering an accident while delivering the fated letter, he wakes to a world he does not know—and to those who do not recognize him. With a new life, a different name, and a fresh chance at winning the woman he loves, Darcy must decide which is "A Life Worth Choosing"––the past he remembers or a future he has created for himself.This Regency variation of Jane Austen's 'Pride and Prejudice' by bestselling author Anngela Schroeder, is appropriate for all who wish to lose themselves on another path towards Darcy and Elizabeth's happily ever after.
What books did you receive?