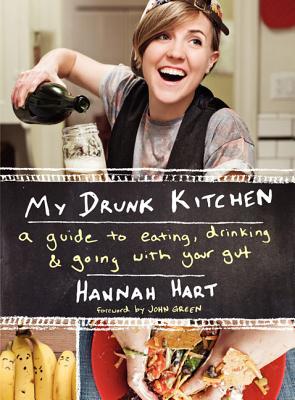 Source: HarperCollins
Hardcover, 240 pages
On Amazon and on Kobo
My Drunk Kitchen: A Guide to Eating, Drinking, and Going With Your Gut by Hannah Hart is a more how-to guide for noncooks and those who have few resources on hand.  In many ways this is not your ordinary cookbook — yes there are ingredients listed but they are mostly suggestions, and there are few if any step-by-step instructions on how to recreate Hart's creations.  "Unconventional" is one word to describe this cookbook, and another would be "fun."  This is a cookbook about having fun in the kitchen, getting creative, and inviting your friends to join in the frenzy — and alcohol always helps.  Hart lets readers into her life and her kitchen — from her younger years in the lunchroom scrounging among friends to fill her belly with various concoctions of candy and crackers, etc.
From this cookbook, we selected Pizzadilla for my birthday party last weekend, which requires sauce, shredded cheese, and tortillas.  The recommended drink with this is cold beer of course, and we happened to have Sam Adams in the house.  You smear the sauce on the tortilla and then add the cheese before putting another tortilla on top — you can stack these on top of one another to make them taller — put them in the oven to cook.  It looks as though this requires some babysitting as there is no temperature listed for the oven, nor is there a time for cooking listed.  You'll have to keep an eye out for the browning of the tortilla and the melting ooze of the cheese.  You can cut these into slices with a butter knife.  These all came out great within about 10 minutes or so on 350 degrees.  Everyone seemed to enjoy them, and we think they could be filled with other toppings, like peppers, mushrooms, pepperoni, and other meat.
My Drunk Kitchen: A Guide to Eating, Drinking, and Going With Your Gut by Hannah Hart is a fun cookbook for those not too worried about timing things and directions, who are interested in making creative dishes in the kitchen.  Beyond single people, bachelors, and drunk cooks, this book could be helpful in introducing kids to cooking.  It is humorous and fun.
***Silly me, we forgot to take photos of the creations, but perhaps we were too drunk.***
About the Author:
Hannah Hart, sometimes nicknamed Harto, is an American internet personality, comedian and author. She is best known for starring in My Drunk Kitchen, a weekly series on YouTube in which she cooks something while intoxicated. Apart from her main channel, she also runs a second channel where she talks about life in general and gives her opinions on various topics. She also has written a cooking book named My Drunk Kitchen – a guide to eating, drinking, and going with your gut.
47th book for 2014 New Author Challenge.