The Book of Lies by Mary Horlock is written in chapters that alternate between the present with Catherine Rozier in 1984-5 and the past during the German occupation of Guernsey during WWII and her uncle Charles Rozier's story.  Like her uncle, Cat is a liar.  Lies are often told to protect loved ones, to gain acceptance among peers, or to cover up bad behavior, and the lies told here are no different.  Unreliable narrators are tricky in that readers can often get frustrated with the lies or become disenchanted with the story because they no longer know how to gauge the truth.  However, Horlock hovers on the edge of that line so as to keep readers engaged by presenting "historic" documentation for the WWII portion of the story.
Cat's father, Emile, often shut himself away from his family and buried himself in historical research about the German Occupation of Guernsey, and this isolationism led Cat to believe she needed to make up stories to fit in and gain attention from not only her peers and parents, but from everyone else on the island.  In a way readers will wonder throughout the novel if she is still lying to gain the attention of readers with her sensational narrative of murder and teen hijinks.
"It's a 3,000-foot drop and even though I'm fat, I'm not fat enough to bounce.  I'll dive headfirst into ye ancient Guernsey granite outcrops and then my mashed-up body will be washed out to sea.  Of course, if I get the tides wrong I'll be stranded on the rocks with seagulls eating my eyes.  I know for a fact they'll eat anything."  (page 1)
Cat unwittingly gets swept up in a friendship with Nicollette Louise Prevost, a beauty and from a family of wealth.  Everything is grand as Nic and Cat drink, hang out, start rumors, and hit on boys and men, but something changes and Cat is cast aside in a callous manner, which drives her to engage in reckless behavior and possibly murder?!  Her uncle's story is similar in that he is befriended by Ray, who quickly casts him aside, but they are reunited in an effort to escape the Germans.  Lies are told by each, and each face tough consequences as a result.  The incestuous nature of the island and the close ties of families on the island are often alluded to, and in a way the close-knit community resembles a large family, and like all families, they hurt those they love.
"I haven't had a shower for as long as I can remember and there's this spot on my chin that I've had to squeeze and squeeze.  Peter Falk might be able to get away with looking like he's slept in a hedge but I'm not a famous TV detective (wearing what is surely a wig)."  (page 146)
Much of the world created by Horlock is fantasy, but readers know that their narrator is unreliable from the beginning.  The chapters about Charles' life are taken from the transcripts of a conversation he had with his brother before his death, which provides a certain authenticity to them.  However, are these entries true?!  Readers will have to sort that out for themselves.  Horlock's style places you in the thick of it with Cat, and readers will feel all of her emotions, particularly that of alienation.  However, how much whining and justification for her actions readers can take will determine how much they empathize with her.  One part of Cat's character that could annoy was her overuse of "as per usual" and "as per" to clarify nearly every statement or situation.  Also some of the diction was just awkward and stilted.
Regardless of or in spite of the unreliable narrator, Horlock has created a well-crafted story that circles in on itself as ancestry is unraveled and history appears to repeat itself decades after Charles Rozier's story of espionage and teen rebellion.  The Book of Lies will keep you guessing throughout its 300+ pages, –right up until the end — but readers will be riveted and satisfied once they get there.  An excellent selection for book clubs with the espionage, teen angst, and trail of lies to analyze and discuss.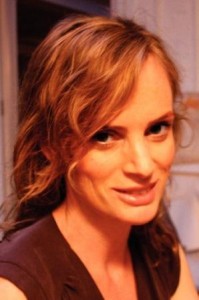 About the Author:
Mary Horlock is an authority on contemporary art who has worked at the Tate Britain and Tate Liverpool, and curated the Turner Prize for contemporary art. She spent her childhood in Guernsey, and lives in London.
For the rest of the stops on the tour, please click the TLC Book Tour icon.  Thanks to TLC and Harper Perennial for sending me a copy of the book for review.
This is my 38th book for the 2011 New Authors Reading Challenge.