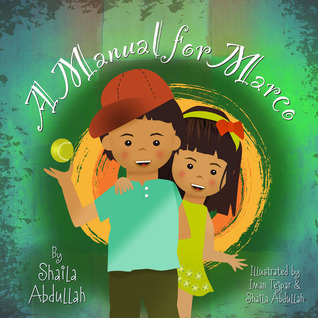 Source: Loving Healing Press
Paperback, 36 pgs
I am an Amazon Affiliate
A Manual For Marco by Shaila Abdullah, illustrated by her and Iman Tejpar, is a frank look at what it is like to be a sibling of a challenged brother.  Eight-year-old Sofia struggles with the love she feels for her brother and how protective she is when it comes to classmates and friends who don't understand and poke fun, but she also struggles with how Marco's differences mean that he receives a bit more attention and care than she does.  This is a dilemma that most kids will struggle with if their sibling is disabled.  This story hit home for me and brought back the memories I had as a child dealing with the attention my brother received as a child that I did not.  Abdullah has created a book that could help kids who were like me, confused by the situation at home and yet protective of the brother who was not understood by those outside the family.
Abdullah is doing important work, and her book is mature in its approach to how these kids relate to one another and how they think and feel.  The manual Sofia creates for her brother not only helps her put into perspective how special her brother is, but also how special her relationship with him is to Marco.  The images are bright, and parents reading this to children can use the story as a way to bring up these discussions about being disabled and communication.  Compassion and understanding are important tools that all children should have, but they are difficult to teach with immediacy.
A Manual For Marco by Shaila Abdullah, illustrated by her and Iman Tejpar, is a great book that not only can generate discussion between parents and children, but it also offers a bit about Abdullah's inspiration for the story and some resources for parents.
Previously reviewed books:
About the Author:
Noted as "Word Artist" by critics, Shaila Abdullah is an award-winning author and designer based in Austin, Texas. She is the author of five books: Saffron Dreams, Beyond the Cayenne Wall, My Friend Suhana, Rani in Search of a Rainbow, and A Manual for Marco. The author has received several awards for her work including the Golden Quill Award and Patras Bukhari Award for English Language. Several academic institutions have adopted her books as course study or recommended reading, including the University of California, the University of Nebraska-Lincoln, Indiana University, Boston University, California State University, and George Washington University.