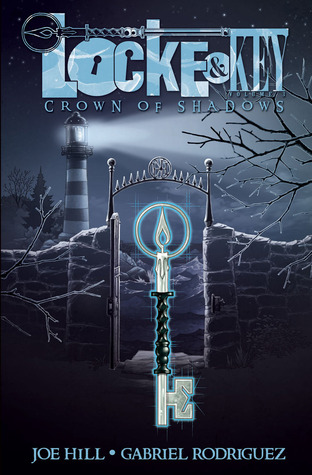 Source: Public Library
Paperback, 152 pgs.
I am an Amazon Affiliate
Locke & Key: Crown of Shadows Vol. 3 by Joe Hill, illustrated by Gabriel Rodriguez, introduces more keys and more trouble for the Locke family.  As their mother spirals further into her depression and strives to fix things while still drinking herself into oblivion, the kids continue to rebel against her.  Even as they strive to be more like adults where she is concerned, they are still mixed up teenagers, failing to deal with their grief about the loss of their father in volume 1.  As Kinsey continues to operate without her fears and sadness, Tyler continues to feel his guilt, which only gets stronger.  Bode is still the curious boy who finds the keys accidentally, but in this case, one key saves them from certain death, while another nearly pushes their mother over the edge when it fails to fix the one thing that cannot be fixed — the death of her husband.
There are more than just magical keys in this house, as the kids soon find that a crown of shadows can be used to move dark forces in the house.  They are still unaware of the wellhouse woman's true identity, but she makes a reappearance in this volume to terrify even the youngest Locke, Bode.  Light is their only weapon until the breakers in the house are shut off and the house is plunged into darkness — a darkness that comes alive with the crown of shadows.
Locke & Key: Crown of Shadows Vol. 3 by Joe Hill, illustrated by Gabriel Rodriguez, is a strong third volume in the series and definitely reveals a lot more about the mysteries behind the keys, the wellhouse woman, and the Locke children's father.  The illustrations are as engaging as ever, and readers will look forward to each horrifying installment.
Other Reviews:
About the Author:
Joseph Hillstrom King is an American writer of fiction, writing under the pen name of Joe Hill.  Hill is the the second child of authors Stephen King and Tabitha King. His younger brother Owen King is also a writer. He has three children.
Hill's first book, the limited edition collection 20th Century Ghosts published in 2005 by PS Publishing, showcases fourteen of his short stories and won the Bram Stoker Award for Best Fiction Collection, together with the British Fantasy Award for Best Collection and Best Short Story for "Best New Horror". In October 2007, Hill's mainstream US and UK publishers reprinted 20th Century Ghosts, without the extras published in the 2005 slipcased versions, but including one new story.
About the Illustrator:
Architect, artist and illustrator. He started his career with myth based illustrations for card games, and then jumped into the world of professional comics working with IDW Publishing. In addition to his current work in Locke & Key, his collaborations with IDW include Clive Barker's The Great and Secret Show, Beowulf, George Romero's Land Of The Dead, as well as several CSI comics and some covers for Angel and Transformers.