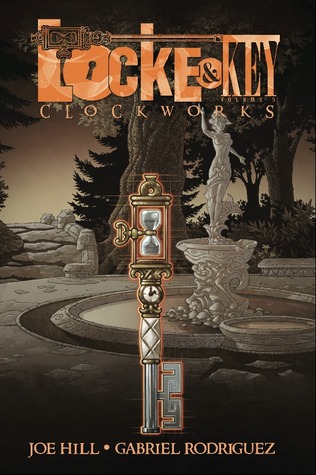 Source: Public Library
Paperback, 159 pgs.
I am an Amazon Affiliate
Locke & Key: Clockworks Vol. 5 by Joe Hill, illustrated by Gabriel Rodríguez, is a whirlwind adventure into the past as the Locke family discovers the timeshift key for the grandfather clock in the house.  This key enables them to go back to 1775 to find out what happened to their ancestors in colonial Massachusetts during the British occupation of Lovecraft, which was not an integral part of the revolution.  The presence of the British in this area signifies a search for an advantage in the war, though it is not really expanded upon.  The Locke children learn the source of the keys and how the demons cam to live in Lovecraft and make their way into the well house.  But there has always been magic here, with or without the discovery of the black door.
The illustration in this volume is consistent with the tale, in which the time shifts to 1775 have a old-world feel compared to the present day.  Hill has a great backstory reveal in this volume, and the Locke kids are up against something that even their father did not fully understand.  There is more death and mayhem in this one, and there is a disturbing image of a possessed goat that left an impression even on me.
Locke & Key: Clockworks Vol. 5 by Joe Hill, illustrated by Gabriel Rodríguez, provides a backstory on the ancestors and the Locke children's father, and it's good to see that these characters are evolving amid all the horror, death, and mayhem created by the demon and the misuse of the keys.  Even their mother has stopped her destructive behavior, but it is clear that there is more devastation to come.
Other Reviews:
About the Author:
Joseph Hillstrom King is an American writer of fiction, writing under the pen name of Joe Hill.  Hill is the the second child of authors Stephen King and Tabitha King. His younger brother Owen King is also a writer. He has three children.
Hill's first book, the limited edition collection 20th Century Ghosts published in 2005 by PS Publishing, showcases fourteen of his short stories and won the Bram Stoker Award for Best Fiction Collection, together with the British Fantasy Award for Best Collection and Best Short Story for "Best New Horror". In October 2007, Hill's mainstream US and UK publishers reprinted 20th Century Ghosts, without the extras published in the 2005 slipcased versions, but including one new story.
About the Illustrator:
Architect, artist and illustrator. He started his career with myth based illustrations for card games, and then jumped into the world of professional comics working with IDW Publishing. In addition to his current work in Locke & Key, his collaborations with IDW include Clive Barker's The Great and Secret Show, Beowulf, George Romero's Land Of The Dead, as well as several CSI comics and some covers for Angel and Transformers.