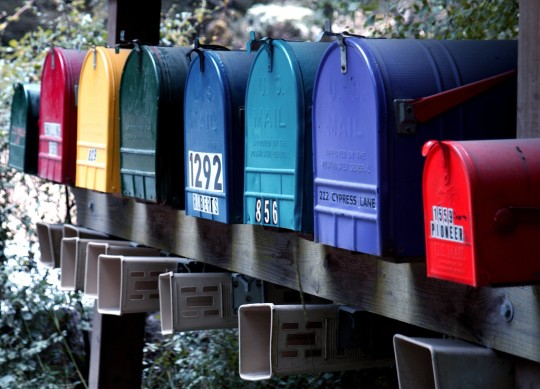 Mailbox Monday has become a tradition in the blogging world, and many of us thank Marcia of The Printed Page for creating it.
It now has it's own blog where book bloggers can link up their own mailbox posts and share which books they bought or which they received for review from publishers, authors, and more.
Leslie, Martha, and I also will share our picks from everyone's links in the new feature Books that Caught Our Eye. We hope you'll join us.
Here's what I received:
Searching for Sylvie Lee by Jean Kwok for review in June.
A poignant and suspenseful drama that untangles the complicated ties binding three women—two sisters and their mother—in one Chinese immigrant family and explores what happens when the eldest daughter disappears, and a series of family secrets emerge, from the New York Times bestselling author of Girl in Translation

It begins with a mystery. Sylvie, the beautiful, brilliant, successful older daughter of the Lee family, flies to the Netherlands for one final visit with her dying grandmother—and then vanishes.

Amy, the sheltered baby of the Lee family, is too young to remember a time when her parents were newly immigrated and too poor to keep Sylvie. Seven years older, Sylvie was raised by a distant relative in a faraway, foreign place, and didn't rejoin her family in America until age nine. Timid and shy, Amy has always looked up to her sister, the fierce and fearless protector who showered her with unconditional love.

But what happened to Sylvie? Amy and her parents are distraught and desperate for answers. Sylvie has always looked out for them. Now, it's Amy's turn to help. Terrified yet determined, Amy retraces her sister's movements, flying to the last place Sylvie was seen. But instead of simple answers, she discovers something much more valuable: the truth. Sylvie, the golden girl, kept painful secrets . . . secrets that will reveal more about Amy's complicated family—and herself—than she ever could have imagined.

A deeply moving story of family, secrets, identity, and longing, Searching for Sylvie Lee is both a gripping page-turner and a sensitive portrait of an immigrant family. It is a profound exploration of the many ways culture and language can divide us and the impossibility of ever truly knowing someone—especially those we love.
Lady in the Lake by Laura Lippman for review in July.
In 1966, Baltimore is a city of secrets that everyone seems to know—everyone, that is, except Madeline "Maddie" Schwartz. Last year, she was a happy, even pampered housewife. This year, she's bolted from her marriage of almost twenty years, determined to make good on her youthful ambitions to live a passionate, meaningful life.

Maddie wants to matter, to leave her mark on a swiftly changing world. Drawing on her own secrets, she helps Baltimore police find a murdered girl—assistance that leads to a job at the city's afternoon newspaper, the Star. Working at the newspaper offers Maddie the opportunity to make her name, and she has found just the story to do it: a missing woman whose body was discovered in the fountain of a city park lake.

Cleo Sherwood was a young African-American woman who liked to have a good time. No one seems to know or care why she was killed except Maddie—and the dead woman herself. Maddie's going to find the truth about Cleo's life and death. Cleo's ghost, privy to Maddie's poking and prying, wants to be left alone.

Maddie's investigation brings her into contact with people that used to be on the periphery of her life—a jewelry store clerk, a waitress, a rising star on the Baltimore Orioles, a patrol cop, a hardened female reporter, a lonely man in a movie theater. But for all her ambition and drive, Maddie often fails to see the people right in front of her. Her inability to look beyond her own needs will lead to tragedy and turmoil for all sorts of people—including the man who shares her bed, a black police officer who cares for Maddie more than she knows.
Phoenix: Transformation Poems by Jessica Goody, which I purchased.
The sideways glance, the quick turn of the head, the sudden look up: these provide Jessica Goody's angle of vision into the fleeting experience of the world that is captured and rendered in her lines.
What did you receive?