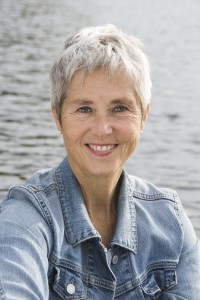 Earlier this month I not only reviewed Alice Bliss by Laura Harrington, but I also participated in her experiment Where's Alice Bliss?  While my copy of her book has been picked up from where I left it, it has not resurfaced on Book Crossing yet.  I'll be sure to keep you posted.
In the meantime, I had the great pleasure of interviewing Laura via email, and I can't wait to share with you just how small the world is.  You may or may not know I'm a graduate of Suffolk University, but Laura has a special connection to my alma mater that I didn't know about.
Without further ado, please welcome Laura.
I see that you are a writer of plays and musicals. How different is it to write a novel?
Each form has its limitations as well as things about it which are expansive. Writing novels has been a time of expanding my imagination and learning all kinds of new things about writing and myself as a writer. I find that I love pushing the boundaries, whether that's from a play to a radio play or from music theatre to opera or from theatre to books.
What changes in discipline are necessary? How are writing them the same?
The actual writing process, the day-to-day activity of writing is the same no matter what the form. You have to show up and give yourself to it. I found I had to make my life very, very quiet in order to create the mental space for a book.
Alice Bliss is adapted from a musical you worked on, Alice Unwrapped, but did the war experiences of your father (WWII) and your brothers (Were they in Vietnam?) and your time at home inspire part of the story as well? How so?
My own family was blown apart by war and it's something we rarely, if ever, talk about. My father returned from WWII and suffered from what was then called battle fatigue. My mother said, "The fellow I married didn't come home." In 1966, both of my brothers enlisted in the Air Force, one out of high school, one out of college. One went to Viet Nam, the other worked with NORAD. My parents were both grieving during those 4 years, as was much of the nation. Those were dark times. And nothing was ever the same again. Our family, as I knew it, was gone; my brothers were both changed by their experiences, and in a chain reaction, all of our relationships were interrupted, and some damaged beyond repair.
Those experiences and the silences that surround them in my family have inspired much of my writing throughout my career.
I write about what obsesses me, the things I can't stop thinking about. I'm also drawn to the voiceless and the displaced. And I'm deeply disturbed about war and wish that I could do something to make a difference.
You and I have talked about your time at Suffolk University, working on plays for the theater department, how did that relationship begin and how would you characterize that experience in comparison to your other play writing projects?
Marilyn Plotkins and the theatre department at Suffolk have played a key role in my development as an artist. When I was given a fellowship year at the Bunting Institute (now the Radcliffe Institute) to write the musical JOAN OF ARC, Marilyn Plotkins committed to giving us a workshop production at Suffolk before I had even put pen to paper. That kind of support and belief is a remarkable gift. The result was an extraordinary night in the theatre with a great cast and crew. The composer for that show is Mel Marvin.
In a very nice twist of fate, we are now working on JOAN OF ARC again as a one-woman show with Nautilus Music Theatre in St Paul, MN. It opens on October 28th, starring Jennifer Baldwin Peden, one of the most gifted performers I have ever worked with. Hearing her sing my words is a peak lifetime experience.
Ten years later I returned to Suffolk University at Marilyn Plotkins' invitation to create a musical that we would workshop with her current students. The composer was Jenny Giering (with whom I wrote ALICE UNWRAPPED) and that musical, CROSSING BROOKLYN, went on to a wonderful Off-Broadway production in NY with the Transport Group. We had a great time working with the students at Suffolk, many of whom traveled to NY to see the show.
When writing poetry, prose, essays, and other works do you listen to music, do you have a particular playlist for each genre you work in or does the playlist stay the same?
I don't listen to music while I write because I feel that language is music. I can't hear that internal music if there's other music playing in the room.
If you don't listen to music while writing, do you have any other routines, obsessions, or habits?
I start my day with a cup of tea, my journal, reading a verse of the Tao, and then swimming. In cold weather I swim at our local Y, in summer I swim in an incredibly beautiful quarry. Before writing, I sit quietly for ten minutes, doing nothing. Which is incredibly hard for me to do. And listening. I'm listening for my characters' voices, or waiting to see an image, either of which can be the beginning of a scene. Something as simple as: «Matt Bliss is someone who knows how to be happy,» will set me on my way to creating a character or writing a chapter. Something as disturbing as seeing/imagining a helicopter crash can become a pivotal plot point.
When I'm beginning a project I walk everyday. Walking clears my head and lets me sort through some aspect of the story, or helps me focus on an important question to ask, or simply gives me a tiny detail to help me flesh out a character.
Books are critical during the writing process. I find I read even more voraciously than usual.
If you read poetry, do you have any favorite poets or contemporary poetry collections others should read?
I do read poetry. The compression and musicality of poetry is closer to playwriting and libretto writing than it is to the novel.
I love Stanley Kunitz and have recently re-read The Wild Braid. I am drawn to his astonishing simplicity. I love Lucille Clifton, Mary Oliver, much of Sharon Olds. And I'm a huge W.B. Yeats fan. And Kenneth Patchen and and and …
What current projects are you working on and would you like to share some details with the readers?
I'm working on a new version of Joan of Arc, as I mentioned. I'm about to begin work on a commission from Playwrights Horizons in NY to write Alice Bliss, the musical, with the composer Jenny Giering and lyricist Adam Gwon.
And I'm deep into my second book. My next novel begins with water, as Alice Bliss does. There's a large Irish Catholic family with six kids. It's 1966 and the Viet Nam war changes everything.
Thanks, Laura, for answering my questions.  It was great getting to know you, your family, and your work.  Keep us posted on your new projects and novels.