In case you missed my review of this must have workbook — Tell the Truth. Make It Matter.: A Memoir Writing Workbook by Beth Kephart, illustrated by William Sulit — you must check out my review.
Today, Beth Kephart stops by to answer a few questions about her workbook and Juncture, memoir workshops and a newsletter.  Please give her a warm welcome.
After teaching memoir at Penn, what prompted you to create your own series of workshops focused on writing memoir?  Was the process from idea to launching your first workshop long? And what obstacles did you face and how did you deal with those?
Serena, I helplessly love memoir. I read it with real hunger, deep interest, open questions. I have been asked by many adult writers if I could work privately on individual manuscripts. I have given memoir talks across the country and run one day memoir workshops in communities and seen what can happen when adults gather to write about their lives. It felt like it was time to create something like Juncture. It took more than a year to roll this out. We wanted to make something beautiful. Find the right sites. Create a gorgeous web site and brochure series. Build a robust syllabi. It took a lot of time and love.
Juncture is a joint project with your equally talented husband; how has that journey been?  How do you find artistic balance when you're working closely together?
Bill is enormously talented. I love his art, his eye, his interest in building meaningful and artful communities. We have collaborated on many projects throughout the years. The creation of Juncture, which involves an Illustrated newsletter, videos, and the workshops themselves, has been deeply engaging and very personal and something we talk about and plan together. We rarely disagree on any aspect of this initiative.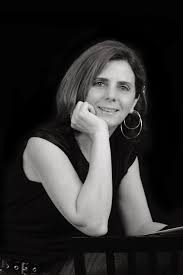 Tell the Truth. Make It Matter.: A Memoir Writing Workbook is a collection of exercises or more.  Are these the same exercises you use in your workshops?  What have been the reactions from participants to those exercises?
I actually never teach the same thing twice. I develop themes for each workshop and work towards them. I may teach some version of some of these exercises but mostly what is in the book was created for buyers of the book. The exercises are holistic. One thing builds to the next and the next. You can do each exercise as a singular experience or you can progressively build toward key elements of your memoir. I loved thinking about the accretive process.
While I never teach the same thing, while I build an intense curriculum that creates many opportunities to study memoir and to write multiple pieces, while I supplement all teaching with excerpts I have on hand and use to develop ideas that rise spontaneously … I always see incredible growth in the Juncture writers over the five days we have together. The kind of growth that makes me cry. And because these writers most often come back for another session months later, I see how they have continued to find their voices and stories in the meantime. It is hugely emotional to be a part of this. We memorialize the experience with a book each writer receives. Portraits Bill will take. Final pages published. Proof of our community and process.
You've included illustrations from your husband in this workbook. Did you give him the freedom to create anything he wanted or did you offer him guidance?  Are there plans to include photography in future editions (I know there will be second and third editions)?
Bill has absolute freedom with the art. I am surprised by each sketch he shows me. I love each sketch. His work makes me happy. No plans for another version, but yes, as I have established, I can't stop thinking about memoir. 

For those interested in signing up for your workshop, what advice would you give about preparing for the workshop in advance? How should they approach the experience? Do you expect them to have a memoir project already in mind?
I prepare my workshop goers. Two months ahead of time the participants are sent PDF packages with excerpt readings, assignments, a guide to the one full book we all read as part of the process, and so much more. I run a workshop for those who have not yet defined their memoir project and one for those already deep into their book. They are entirely different and very respectful of where each writer is in the process.
Thank you, Beth, for sharing your thoughts with us.  If you're looking for a great memoir teacher, Beth is your lady.