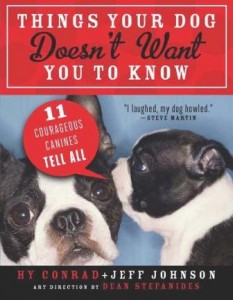 Things Your Dog Doesn't Want You to Know by Hy Conrad and Jeff Johnson is a humorous collection of stories from 11 dogs who bare all.  Not only do they divulge secrets about why those "pee" walks take so long, but they also enlighten dog walkers on the order that dogs should be taken out and why.  There are hijinks from dogs eating shoes and eating even mores hoes when owners lock them in the shoe closet, and there are dogs giving parenting advice to owners about their own puppies.
Sarge was one of the funniest given that he was a narcotics dog and became addicted to the pot that the police had him sniffing out.  He goes through several different jobs from junkyard dog to service dog.  He has trouble holding down a job.  Axelrod is another funny little dog who has a thing for herbs and incense given that there are herbal soaps in the bathroom, he thinks the herb garden outside is the perfect place to go potty since his owners seem to like the scent.
Conrad and Johnson have a firm grasp of the dog mindset and their seemingly erratic behavior from chasing cars to herding kids throughout the house.  A book you can dip into in the waiting room for entertainment, follow only one dog's story from beginning to end, or read cover to cover.  Things Your Dog Doesn't Want You to Know by Hy Conrad and Jeff Johnson is fun for dog owners, kids, those who love dogs, and anyone in between looking for a good chuckle.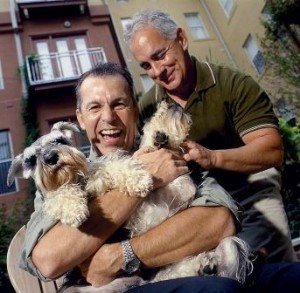 About the Authors:
Best known for his work in mysteries, Hy Conrad was one of the original writers for the groundbreaking series, Monk, working on the show for all eight seasons, the final two as Co-Executive Producer. In a related project, Hy was Executive Producer and head writer of Little Monk, a series of short films featuring Adrian Monk as a ten-year-old.  His latest TV work was as writer and Consulting Producer for White Collar.
Hy is also the author of hundreds of short stories and ten books of short whodunits, which have been sold around the world in fourteen languages.  Hy's first mystery novel series, Abel Adventures, will debut in 2012 with the publication of Rally 'Round the Corpse.  And his first full-length comedy/mystery play, Home Exchange, premiered at the Waterfront Playhouse in May 2012.  He lives in Key West and Vermont with his partner and two miniature schnauzers.
Jeff Johnson spent most of his working life in advertising agencies, currently as General Manager of Cramer-Krasselt in New York City.  He is the author of The Hourglass Solution:  A Boomer's Guide to the Rest of Your Life and co-authors (with Paula Forman) a national online advice column called Short Answers, which also appears in newspapers all along the east coast (from Massachusetts to Florida).  Jeff lives in Vermont and Key West and is on the Board of Directors of the Waterfront Playhouse and the Florida Keys SPCA.
This is my 76th book for the New Authors Reading Challenge in 2012.