Mailbox Monday, created by Marcia at To Be Continued, formerly The Printed Page, has a permanent home at its own blog.
To check out what everyone has received over the last week, visit the blog and check out the links.  Leave yours too.
Also, each week, Leslie, Vicki, and I will share the Books that Caught Our Eye from everyone's weekly links.
Here's what I received:
Free e-books:
1.  A Long Christmas by Michelle Read
Can true love be found at Christmas?

What if Emily never went to the nineteenth century?

What if William went to the twenty-first century instead?

A twist on the original Centuries of Love Trilogy sees William waking up at Christmas in 2012.

Confused by this new modern era and why he has been brought here, he is soon relieved to find his wife, Emily, but is shocked when she doesn't know who he is.

On discovering the nineteenth century tradition of kissing your true love by midnight on Twelfth Night or lose them forever, he realises it's a race against time to make Emily fall in love with him all over again.
2.  Mansfield Ranch by Jenni James
Does true love really prevail?

All Lilly Price has ever known is living in the shadow of her widely successful foster family. But when a twist of fate deals Lilly the hand of Harrison Crawford, the most popular guy in Bloomfield, NM, everything flips upside down.

Sean Benally is a hard worker, he's funny, he's generous, and he's kind. He's also the most amazing guy Lilly has ever known. And she's totally fallen in love with him. But he's her foster brother…

Now she must choose between the unavailable love of her life — or the guy who promises to be available forever.
3.  Jane Austen and the Archangel by Pamela Aares
What's to be done with an angel who breaks the rules? Introduce him to a woman known for her propriety, of course.

Until then, passion had lived only on the page…

Jane Austen hasn't written a creative word in months. She secretly fears she may not have it in her to write a single word more about love. Yet when the mysterious Michael Grace appears on her doorstep, she's cast into a world of emotion beyond even her wildest imaginings. Though she fears he might be a spy, she enlists his help to find her friend's fiancé, missing in the Peninsular War. But Michael isn't what he seems, and the passion and doubts he ignites turn everything Jane trusts upside down. What Jane doesn't know is that her mystery man is an angel. One who's never failed to get what he goes after.

Some rules just beg to be broken…
4. Mrs. Tuesday's Departure by Suzanne Elizabeth Anderson
A heart-wrenching historical novel spanning seventy years, two continents, and a an imagined story that holds the power to create a safe future for a young girl. This page-turning family saga soars to a breathtaking ending that redefines the meaning of love.

When Natalie and Anna, sisters and life-long rivals, hide an abandoned child from the Nazis, their struggle re-opens a star-crossed love triangle, threatening their safety and testing the bonds of their loyalty.

Hungary's fragile alliance with Germany insured that Natalie, a best selling children's book author, and her family would be safe as World War Two raged through Europe. The Holocaust that has only been whispered about until now becomes a terrible reality for every Jewish family or those who hide Jews.

Beautiful but troubled Anna, a poet and university professor is losing her tenuous hold on reality, re-igniting a dangerous sibling rivalry that began in childhood. The streets of Budapest echo with the pounding boots of Nazi soldiers. Danger creeps to the doorstep where the sisters' disintegrating relationship threatens to expose the child they are trying to protect. In one night, Anna's rash behavior destroys their carefully made plans of escape, and Natalie is presented with a desperate choice. Interwoven with Natalie and Anna's story, is Mila's. The abandoned child whose future Natalie lovingly imagines in a story about an old woman named Mrs. Tuesday. Mrs. Tuesday's Departure is an inspirational historical novel spanning two generations and exploring the unbreakable bonds of sisters.
5. Jane, Actually by Jennifer Petkus

With the invention of the AfterNet, death isn't quite the end to a literary career it once was, and Jane Austen, the grande dame of English literature, is poised for a comeback with the publication of Sanditon, the book she was writing upon her death in 1817. But how does a disembodied author sign autographs and appear on talk shows? With the aid of Mary Crawford, a struggling acting student who plays the role of the Regency author who wrote Pride and Prejudice and Emma and Sense and Sensibility. But Austen discovers her second chance at a literary career also gives her a second chance at happiness and possibly even … love.
6.  Emma and Elizabeth by Ann Mychal

Once heiress to a large estate, Emma Watson, now penniless, is thrown back into the arms of the family she has not seen for fourteen years when Mrs Turner, her widowed guardian, accepts an offer of marriage from Captain O'Brien. On the eve of the first assembly of the season, Emma returns unexpectedly to Stanton, her family home.

Interest in the newcomer is heightened when Emma becomes the object of attention at the ball; admired by Lord Osborne, Tom Musgrave and Mr Howard, Emma's debut at the local assembly seems nothing less than a triumph. But once her potential suitors are acquainted with the facts, will her lack of fortune make a difference?

Emma receives a mixed welcome at home, but finds a true friend in her eldest sister, Elizabeth. However, when duty to the family is tested to its limit, one sister is obliged to sacrifice her own happiness to ensure the happiness of the other.
Purchased:
7. Cozy Christmas Capers: Holiday Short Story Collection by Gemma Halliday, Janel Gradowski, etc.
19 holiday short stories by 19 New York Times, USA Today and award winning authors! Enjoy these tales of mystery, romance, and laughter amid the backdrop of pine tress, gingerbread men, and Santas galore! The perfect short bites for cozying up by the fire with a cup of cocoa…or waiting in line at gift wrapping!
For Review Consideration: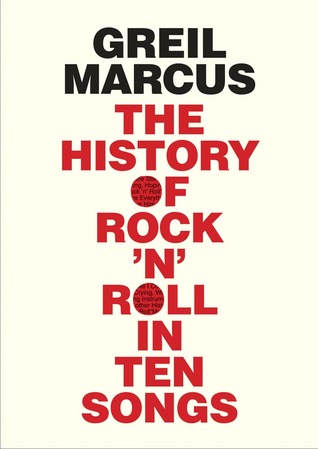 8. The History of Rock 'n' Roll in Ten Songs by Greil Marcus, narrated by Henry Rollins from Audible.
Unlike all previous versions of rock 'n' roll history, this book omits almost every iconic performer and ignores the storied events and turning points that everyone knows. Instead, in a daring stroke, Greil Marcus selects ten songs recorded between 1956 and 2008, then proceeds to dramatize how each embodies rock 'n' roll as a thing in itself, in the story it tells, inhabits, and acts out—a new language, something new under the sun.

"Transmission" by Joy Division. "All I Could Do Was Cry" by Etta James and then Beyoncé. "To Know Him Is to Love Him," first by the Teddy Bears and almost half a century later by Amy Winehouse. In Marcus's hands these and other songs tell the story of the music, which is, at bottom, the story of the desire for freedom in all its unruly and liberating glory. Slipping the constraints of chronology, Marcus braids together past and present, holding up to the light the ways that these striking songs fall through time and circumstance, gaining momentum and meaning, astonishing us by upending our presumptions and prejudices. This book, by a founder of contemporary rock criticism—and its most gifted and incisive practitioner—is destined to become an enduring classic.
9. Scent of Butterflies by Dora Levy Mossanen from Sourcebooks and TLC Book Tours.
Such audacity she has, Soraya, a woman who dares to break free of the diamond-studded leash of her culture. A woman who refuses to accept the devastating betrayal her husband has perpetrated. A woman who refuses to forgive her best friend.

Soraya turns her back on Iran, fleeing to America to plot her intricate revenge. The Shah has fallen, her country is in turmoil, her marriage has crumbled, and she is unraveling. The cruel and intimate blow her husband has dealt her awakens an obsessive streak that explodes in the heated world of Los Angeles.

Yet the secret Soraya discovers proves far more devastating than anything she had imagined, unleashing a whirlwind of unexpected events that will leave the reader breathless.
What did you receive?