Source: Lake Union Publishing and TLC Book Tours
Paperback, 420 pages
I am an Amazon Affiliate
Inamorata by Megan Chance is dark, mysterious, and twisted.  Odile Leon is a former courtesan turned dark muse, and if you are as talented in the arts as your ego lets you believe, she will choose you.  But the bargain could cost you your soul.  Nicholas Dale knows this too well, and he's made it his mission to stop her.  Add to the mix mysterious twins, Joseph and Sophie Hannigan, from New York.  These twins carry their own dark secrets and they intrigue not only the entire art community in Venice, but Dale and Odile.  These twins are not torn between the struggling forces of good and evil, but something darker, more singular — desired by both sides.
"That I was not always in his shadow, that there was something in the world that could belong just to me.  To truly be as special on my own terms as Joseph said I was — sometimes my yearning for it was so strong it took me by surprise."  (page 109)
There is talk of ghosts, succubi, murders, suicides, and more, but Chance weaves artistry so well into the narrative readers will get lost in the canals, wondering how it all will turn out.  There are points in the narrative that drag a little, perhaps there are too many points of view shared, which slows the pace a bit, but many readers would not want to trade any of those points of view because they could lose the full scope of the story.  These points of view enrich the story, making it fuller, and the characters themselves are dynamic and well developed.  These characters are trapped by their yearning and desire to be bigger, recognized, and made whole.
Chance has created a heavy, twisted novel about romantic Venice, and the artists who are struggling to gain recognition. Inamorata by Megan Chance is enveloping, and readers will fall under its spell as each page is turned and more is revealed.  Will these characters achieve their darkest desires, will they be beholden and enslaved by them, or will they find the solace they are seeking?  Another contender for the 2014 Best Reads list!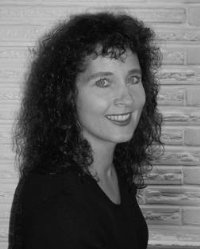 About the Author:
Megan Chance is a critically acclaimed, award-winning author of historical fiction. Her novels have been chosen for the Borders Original Voices and IndieBound's Booksense programs. A former television news photographer and graduate of Western Washington University, Chance lives in the Pacific Northwest with her husband and two daughters.  Connect on Facebook and Twitter, and visit her Website.

48th book for 2014 New Author Challenge.