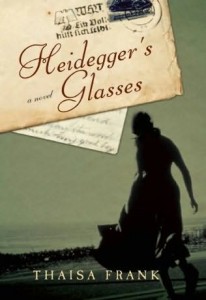 Thaisa Frank's WWII novel, Heidegger's Glasses, combines philosophy, mystery, war, and more, woven with crisp, no-nonsense dialogue and just enough detailed description to tantalize the reader to continue the journey.  The story centers on Operation Mail, Briefaktion, a Nazi program to entice Jews to volunteer for relocation by sending letters from their taken relatives.  The letters are actually written by a group of Scribes pulled from the lines of people being relocated, who have special language skills.  A special set of orders, possibly from Goebbels, are sent to the Compound for a philosopher to answer Heidigger's letter to his Jewish optometrist Asher Englehardt, who was sent to Auschwitz and is probably dead.
"Hans Ewigkeit had originally planned to line the mine with thick brick walls.  But even before losing Stalingrad, the Reich was pinched for money.  So instead of brick walls, the Compound had thin pine walls covered with a single layer of plaster.  Workers had added five coats of paint.  But the Compound was a flimsy shell:  Scribes put their hands on their ears when they wanted to think.  Mueller had worn earmuffs."  (page 81)
Enter Elie Schacten, a woman with two lives and names.  She writes some of the letters, but most importantly has permission to be outside after curfew and uses that to her advantage to save those she can from the oppressive Nazi regime.  She is caught between her lies and the ambitious Stumpf who considers himself in charge of the Compound as well as her affection for Lodenstein, the leader of the Compound.  Will the orders to write a response to Hiedigger's letter expose the Compound for its lackadaisical work and Elie's operations to rescue Jews, or will the orders be another means of saving helpless souls?
"Light snow began to fall — swirls of white on grey.  The streets widened, narrowed, widened again, expanding and contracting, as though they were breathing.  Nothing felt quite real to Elie — not the sky, or the air, or a coffeehouse where customers drank from incongruously large cups of ersatz coffee.  People hurried by, surrounded by pale grey air — the only thing that seemed to hold them together.  Elie passed a muddy street with a chain-link fence followed by a row of prosperous houses.  The town was breaking up, and she felt she was breaking up with it.  It began to snow thickly, surrounding everyone in white.  We're bound by veils, Elie thought, fragile accidents of cohesion." (page 95)
Heidigger's Glasses is more than a philosophical journey, it takes a look at how the ordinary can become extraordinary.  Each object can have a hidden meaning or take on the life of a memory that will have to serve as a lifeline in the most dire of moments.  Like Hiedigger's glasses help the philosopher "fall out of the world," each character must find that moment in time when they fall out of the reality they fear and into the reality that they create.  Frank has taken the time to weave a complex story during a tumultuous time in history, and her novel accomplishes that goal and more.  Her characterizations are unique and dynamic, and the plot is unraveled slowly by the reader who takes an unexpected journey to discover the mettle of even the most ordinary individual.
About the Author:
Thaisa Frank has written three books of fiction, including A Brief History of Camouflage and Sleeping in Velvet (both with Black Sparrow Press, now acquired by David Godine). She has co-authored a work of nonfiction, Finding Your Writers Voice: A Guide to Creative Fiction, which is used in MFA programs.  Her forthcoming novel, Heidegger's Glasses, is coming out this fall with Counterpoint Press.  Foreign rights have already been sold to ten countries.
***Thanks to the author, TLC Book Tours, and Counterpoint for sending me a review copy. ***
Please check out the other stops on the tour.
Giveaway information:  1 Copy for 1 lucky reader in the U.S. or Canada
1.  Leave a comment about what historical period you love to read about most.
2.  Blog, Tweet, Facebook, etc., for a second entry and leave a link in the comments.
Deadline Dec. 3, 2010, 11:59PM EST.
This is my 57th book for the 2010 New Authors Reading Challenge.