Mailbox Monday, created by Marcia at To Be Continued, formerly The Printed Page, has a permanent home at its own blog.
To check out what everyone has received over the last week, visit the blog and check out the links. Leave yours too.
Also, each week, Leslie, Vicki, and I will share the Books that Caught Our Eye from everyone's weekly links.
Here's what I received:
Family Portraits: A Dearest Friends Continuation by Pamela Lynne, a gift from the author.
In Dearest Friends, Pamela Lynne drew complex and interesting characters who joined Darcy and Elizabeth on their road to happily ever after. But, what happened after 'the end'? Did Lydia survive her time at Rosings? Did Jane find fulfillment as Mrs. Bingley? Did Mary and Sebastian adhere to duty or allow their hearts to lead them? Follow the Fitzwilliams, Bennets, Gardiners and Darcys through portraits of their lives at two, five and ten years after the Darcys' marriage. Their canvas is studded with heartbreaking loss, new beginnings and, through it all, the indelible bond of family?
A Certain Age by Beatriz Williams for review.
As the freedom of the Jazz Age transforms New York City, the iridescent Mrs. Theresa Marshall of Fifth Avenue and Southampton, Long Island, has done the unthinkable: she's fallen in love with her young paramour, Captain Octavian Rofrano, a handsome aviator and hero of the Great War. An intense and deeply honorable man, Octavian is devoted to the beautiful socialite of a certain age and wants to marry her. While times are changing and she does adore the Boy, divorce for a woman of Theresa's wealth and social standing is out of the question, and there is no need; she has an understanding with Sylvo, her generous and well-respected philanderer husband.

But their relationship subtly shifts when her bachelor brother, Ox, decides to tie the knot with the sweet younger daughter of a newly wealthy inventor.
A Jane Austen Christmas: Regency Christmas Traditions by Maria Grace, which I won from JustJane1813.
Many Christmas traditions and images of 'old fashioned' holidays are based on Victorian celebrations. Going back just a little further, to the beginning of the 19th century, the holiday Jane Austen knew would have looked distinctly odd to modern sensibilities.

How odd? Families rarely decorated Christmas trees. Festivities centered on socializing instead of gift-giving. Festivities focused on adults, with children largely consigned to the nursery. Holiday events, including balls, parties, dinners, and even weddings celebrations, started a week before Advent and extended all the way through to Twelfth Night in January.

Take a step into history with Maria Grace as she explores the traditions, celebrations, games and foods that made up Christmastide in Jane Austen's era. Packed with information and rich with detail from period authors, Maria Grace transports the reader to a longed-for old fashioned Christmas.
The Chilbury Ladies' Choir by Jennifer Ryan for review in 2017.
As England enters World War II's dark early days, spirited music professor Primrose Trent, recently arrived to the village of Chilbury, emboldens the women of the town to defy the Vicar's stuffy edict to shutter the church's choir in the absence of men and instead 'carry on singing'. Resurrecting themselves as "The Chilbury Ladies' Choir", the women of this small village soon use their joint song to lift up themselves, and the community, as the war tears through their lives.

Told through letters and journals, The Chilbury Ladies' Choir moves seamlessly from budding romances to village intrigues to heartbreaking matters of life and death. As we come to know the struggles of the charismatic members of this unforgettable outfit — a timid widow worried over her son at the front; the town beauty drawn to a rakish artist; her younger sister nursing an impossible crush and dabbling in politics she doesn't understand; a young Jewish refugee hiding secrets about her family, and a conniving midwife plotting to outrun her seedy past — we come to see how the strength each finds in the choir's collective voice reverberates in her individual life.

In turns funny, charming and heart-wrenching, this lovingly executed ensemble novel will charm and inspire, illuminating the true spirit of the women on the home front, in a village of indomitable spirit, at the dawn of a most terrible conflict.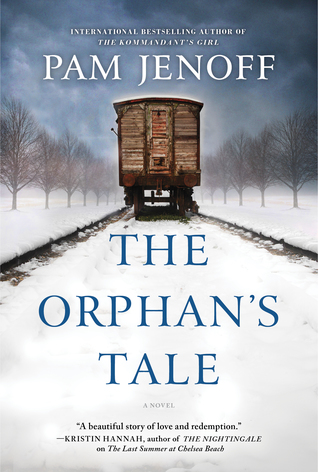 The Orphan's Tale by Pam Jenoff for review in 2017.
Seventeen-year-old Noa has been cast out in disgrace after becoming pregnant by a Nazi soldier during the occupation of her native Holland. Heartbroken over the loss of the baby she was forced to give up for adoption, she lives above a small German rail station, which she cleans in order to earn her keep.

When Noa discovers a boxcar containing dozens of Jewish infants, unknown children ripped from their parents and headed for a concentration camp, she is reminded of the baby that was taken from her. In a moment that will change the course of her life, she steals one of the babies and flees into the snowy night, where she is rescued by a German circus.

The circus owner offers to teach Noa the flying trapeze act so she can blend in undetected, spurning the resentment of the lead aerialist, Astrid. At first rivals, Noa and Astrid soon forge a powerful bond. But as the facade that protects them proves increasingly tenuous, Noa and Astrid must decide whether their unlikely friendship is enough to save one another—or if the secrets that burn between them will destroy everything.
From my secret Santa:
Overheard in Hell
Take Out From the Writer's Cafe
By Candlelight: Dark Imagination
Straying from the Path
Dancing on the Edge
If My Sandcastle Drowns… Can I Live With You?
What did you receive?