Source: borrowed from Anna
Paperback, 269 pages
I am an Amazon Affiliate
Joy for Beginners by Erica Bauermeister is the perfect summer read, and while summer may be a few weeks away yet, this book hit the spot.  A group of friends came together unexpectedly from different walks of life and varied backgrounds and families, with some divorced, others perpetually single, and even a few happily married and content with family life.  These women — Daria, Marion, Sara, Hadley, Caroline, Ava — came together at first to help out Sara, a mother with twins and not enough hands, through a baby holding circle.  Once the twins grew old enough and Sara adapted to her new role as a mother of three, the women turned to another challenge, helping Kate through chemo and her battle with cancer.  As her daughter challenges Kate to take on the rapids of the Grand Canyon, she challenges all of these supportive women to face their own fears and challenges, and luckily each of them agrees.  From baking bread to getting a tattoo, these challenges are as varied as the women who must accomplish them.
"Two months later, Henry came into town just in time for Thanksgiving, bringing with him the smells of travel, cigarette smoke from a crowded train in Poland, yeast from a bakery in Alsace-Lorraine.  The toys he brought the children were not made of plastic; the music he hummed was nothing she recognized.  He was her twin, and looking at him she had never felt more as if he was her second half, the one she had sent out into the world while she stayed home.  She felt as if she could not stand close enough to him, listen to his stories long enough, as if doing so would make her a complete person again." (page 107 ARC)
Like Bauermeister's previous and current books that focus on people and food, so does Joy for Beginners, and in many ways all of her books center on the theme of learning to enjoy life and make the most of it.  Rediscovering what it means to be alive is at the heart of this novel, and it was a wonderful ride to see these women conquer their fears and face the challenges before them.  Like her previous books, readers will taste and smell the foods the women eat and find; they'll smell the perfumes and scents around them; and they'll experience the joy, surprise, and invigoration each of these women find.
Each of these women's stories reads like a separate short story, but what makes this novel work are the connections these women share with one another and between themselves.  Kate and Sara may have brought these women together to nurture them and be their rocks of support, but its the connections that they continue to build together that propels these stories onward and deepens the ties that bind them together.  Readers are likely to want to see more from these women as their stories seem to be just beginning.  Joy for Beginners by Erica Bauermeister is uplifting, fun, and reflective, but it also demonstrates the perseverance of the human soul despite the challenges of life that can seem overwhelming.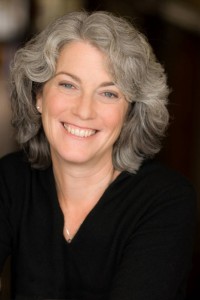 About the Author:
ERICA BAUERMEISTER is the author of The School of Essential Ingredients (my review) and The Lost Art of Mixing (my review).  She lives in Seattle with her family.  Check out her Facebook page.