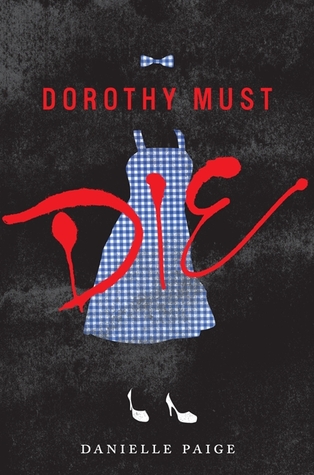 Source: Public Library
Hardcover, 452 pgs
I am an Amazon Affiliate
Dorothy Must Die by Danielle Paige is a twisted rendition of The Wizard of Oz, with a lot of references to the classic movie of the same name starring Judy Garland.  Paige has brought Amy Gumm to Oz the same way that Dorothy arrived, but unlike the happy ending in the story Amy knows, Oz has found itself sapped by Dorothy's lust for magic.  Given that this is book one in a young adult trilogy, readers can expect that despite the title, obstacles are greater than they first appear and the story will drag on.  However, Paige keeps too much information close to the vest, leaving the main protagonist and the reader too much in the dark.  With the pacing bogging down in parts for extra long training sessions and discussions about things that don't advance the plot or characterization much, readers may find their mind wandering and wishing Amy would just get on with her mission from the Revolutionary Order of the Wicked.
"I first discovered I was trash three days before my ninth birthday — one year after my father lost his job and moved to Secaucus to live with a woman named Crystal and four years before my mother had the car accident, started taking pills, and began exclusively wearing bedroom slippers instead of normal shoes." (page 1)
Amy is a young woman with image issues and someone who has spent too much of her young life being an adult when her mother wallowed in her self-pity.  When she arrives in Oz she may seem tough to the munchkins and others, but on the inside she's unsure of just about everything.  Consistent reminders not to trust anyone force her to rely on herself and her own instincts, which in some cases prove not to be so good.  This journey story is rife with twisted characters from Oz, magic, and indecision, but it also creates an alternate universe that will leave readers wondering what happens next because this is not the story they remember.
"Relying on a rat to guide me through a magic maze pretty much summed up my last twenty-four hours.  I felt out of control, isolated, and uncertain where I was headed.  I plunged forward regardless.  Sometimes the path was narrow and claustrophobic, the hedges so high I couldn't even see their tops.  Then I'd turn a corner into a sweeping cobblestone boulevard where the topiary walls were short enough that it seemed like I might be able to dive over them with a running start."  (page 384)
Dorothy Must Die by Danielle Paige, our March book club selection, was an interesting twist on a story many of us already know, and while the book's twisting of characters worked better for characters like the Scarecrow than they did for the Lion, Paige has built a believable construct from a world consumed by greed.
About the Author:
Danielle Paige is a graduate of Columbia University and the author of Dorothy Must Die and its digital prequel novellas, No Place Like Oz and The Witch Must Burn. Before turning to young adult literature, she worked in the television industry, where she received a Writers Guild of America Award and was nominated for several Daytime Emmys. She currently lives in New York City.
What the Book Club Thought:
We discussed this one and our February pick, The Immortal Life of Henrietta Lacks, at the same meeting.
Everyone seemed to enjoy Skloot's book and we had a great discussion about medical ethics and privacy as well as whether we'd want our names to be known if our cells ended up helping cure disease or wipe out the human race.  It was a lively discussion, even with those who did not have a chance to read the book.
Most people liked Dorothy Must Die for the most part, though several said the pacing was off and a couple members mentioned that the best drawn of the characters was the Scarecrow.  Some expressed an interest in reading the second book in the series, but we'll have to wait until next month's nomination period to see if that happens.  Otherwise, some will likely read the second book on their own.