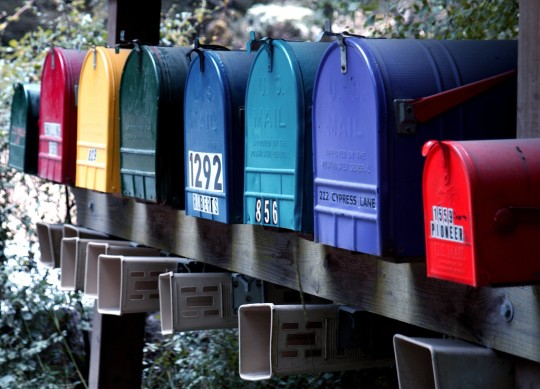 Mailbox Monday has become a tradition in the blogging world, and many of us thank Marcia of The Printed Page for creating it.
It now has it's own blog where book bloggers can link up their own mailbox posts and share which books they bought or which they received for review from publishers, authors, and more.
Leslie, Martha, and I also will share our picks from everyone's links in the new feature Books that Caught Our Eye. We hope you'll join us.
Here's what I received:
Darcy and Elizabeth: Mischief and Misunderstanding by Cassandra Knightley, a Kindle freebie.
A stolen kiss at the Netherfield Ball sparks a merry war between Darcy and Elizabeth.

After unexpectedly inheriting both a title and the fine estate of Messina Grove, Lord Bennet and his family leave Longbourn forever to start a new life of nobility. And why should they not? Mr. Bingley and his party had quit Netherfield no more than a week earlier, leaving Jane quite publicly heartbroken, and Elizabeth secretly so.
A Forever Kind of Love by Christie Capps, a Kindle freebie.
In this sweet Regency variation of Jane Austen's Pride & Prejudice, Fitzwilliam Darcy's eldest son sets out to seek a bride. Alexander Fitzwilliam Darcy is the spitting image of his father—in looks, temperament, and his inability to impress a woman not particularly wanting to be impressed.

Darcy, against the loving advice of his intelligent wife, decides to help his son along. In the process, the forever kind of love our dear couple has for each other is displayed as tenderness meets stubbornness and affection meets determination.

Come along for the bumpy ride between Darcy & Elizabeth as love blooms at Pemberley—or does it?
We Are the Gardeners by Joanna Gaines, illustrated by Julianna Swaney, which came from the Easter Bunny.
You and your children can learn all about the Gaines family's story of becoming gardeners in Joanna's first children's book—starting with the first little fern Chip bought for Jo. Over the years, the family's love for gardening blossomed into what is now a beautiful, bustling garden.

Julianna Swaney's illustrations bring the Gaines family garden to life with colorful, whimsical watercolors and invite you to enjoy the beauty of a thriving garden.
Katt vs. Dogg by James Patterson and Chris Grabenstein, which also came via the Easter Bunny.
Oscar is a happy dogg—a rambunctious kid who loves being a Dogg Scout. Thanks to his family, he knows that snobby katts are good for nothing but chasing up trees.
What did you receive?