Source: Purchased
Hardcover, 272 pgs.
I am an Amazon Affiliate
The Great Upending by Beth Kephart is a story with mystery, family, and lives turned upside down in unexpected ways that will create long-lasting bonds. Sara and Hawk Scholl are siblings living on a rural farm in Pennsylvania, a farm that has seen its share of troubles and there's no end in sight to them. Twelve-year-old Sara has Marfan syndrome, a genetic disorder that affects the body's connective tissue, and she needs a rather expensive operation that her financially strapped parents cannot afford.
The farm in this story is alive with animals running, prize birds escaping, and a Mister renting out the family's converted silo. The kids have chores and the parents are praying for rain to end one of the worst droughts they've ever experienced. The Mister is a mystery, and even though they are told to keep their distance, they can't help by spy on him from the roof or a nearby tree. Kephart's prose is as poetic as always, even as she describes a disease that can mean an early death for many who have it.
"It all comes down to glue. I'm a body built out of stretch." (pg. 29)

"The only rain that's anywhere is the rain that rains eyes to chin, over the long stretching stretch of my thinking, and now, downstairs, I hear Mom and Dad talking. I hear the number we need: twenty grand for Sara's surgery." (pg. 78)

"I take a picture, which is like a seed, the way it keeps its beauty folded in." (pg. 205)
From the love of reading to the vivid, wild pull of imagination, Sara and Hawk are drawn into their own mystery and start making plans to help the stranger who is helping them, even if the money from his rent is not enough to cover the bills or the dream of surgery her parents carry for Sara. These siblings are tied by the bond of family, but they're also conspirators in a tale of salvation and preserving the thrill of imagination. The Great Upending by Beth Kephart is gorgeously rendered and brings to life the beauty and hardship of farm life and the struggles a young girl with Marfan syndrome can face, but how those hardships are only part of the story.
RATING: Quatrain
Other Reviews: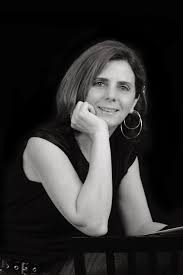 About the Author:
Beth Kephart is the author of twenty-two books, publishing memoir, young adult literature, a corporate fairytale, an autobiography of a river, and an essay/photography collection.
Handling the Truth: On the Writing of Memoir (Gotham), based in part on Kephart's teaching at Penn (where she won the 2015 Beltran Teaching Award), won the 2013 Books for a Better Life Award (Motivational Category), was featured as a top writing book by O Magazine, and was named a Best Writing Book by Poets and Writers. Small Damages (Philomel) was named a 2013 Carolyn W. Field Honor Book and a best book of the year by many publications. Going Over (Chronicle) was the 2014 Parents' Choice, Gold Medal Winner/Historical Fiction and a Booklist Editor's Choice. One Thing Stolen (Chronicle) was a 2015 Parents' Choice Gold Medal winner. Kephart's 2014 Shebooks e-memoir is Nest. Flight. Sky.: On Love and Loss One Wing at a Time. Her 2013 middle grade historical novel, Dr. Radway's Sarsaparilla Resolvent (Temple University Press), was named a top book of the year by Kirkus.
Kephart is a National Book Award nominee and a winner of the Pennsylvania Council on the Arts fiction grant, a National Endowment for the Arts grant, a Leeway grant, a Pew Fellowships in the Arts grant, and the Speakeasy Poetry Prize. She writes a monthly column for the Philadelphia Inquirer, is a frequent contributor to the Chicago Tribune, has given keynote addresses on the state of literature and teaching, and served as a judge for the National Book Awards, the National Endowment for the Arts, and PEN. 

Kephart was one of 50 Philadelphia writers chosen for the year-long Philadelphia's Literary Legacy, exhibited at the Philadelphia International Airport. Excerpts from her Love: A Philadelphia Affair were the subject of a six-month Airport exhibit. She is a Radnor High Hall of Fame.
Kephart is the co-founder of Juncture Workshops, offering memoir workshops and resources to writers across the country.