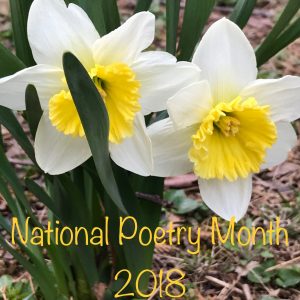 Source: Purchased
Paperback, 44 pgs.
I am an Amazon Affiliate
Almost Invisible by Kateema Lee, who read at the fourth DiVerse Gaithersburg Poetry Reading, is a short collection that explores the nature of family and how oftentimes as children we can feel like we're on the periphery of others' lives. Even as the narrator in these poems laments the life and relationships that she did not have with her father and sister, for example, it is clear she still views them as positively as she can.
From "Taraxacum" (pg. 19)

the passenger window of a police car
three little girls innocently giggling,
talking to someone who's vowed to be impartial,
to defend, nothing menacing in that scene,

I felt afraid. At that moment I remembered
being nine or ten, learning that to some
I was cute for a brown girl and to others
I was no more than a weed needing to be pulled,"
Through juxtaposition of innocent scenes, she clings to the good, but the darker memories of hate and racism creep in. The narrator also strives to remember relatives as they would like to have been remembered if war had not harmed their psyches — a war in Vietnam and a war with drugs.
"Elegy for My Sister" is a poem that will evoke deep sadness. The narrator's sister, an artist who captured faces in charcoal beautifully, realistically, is dies long before she ages. "But somewhere deep in the District/my sister haunts hallways and vacant lots,/never taking flight," the narrator laments after watching red birds fly. A moment she wishes her sister could have. She also speaks of a father who was proud of her as the new beginning he almost made. The narrator is "almost" invisible in her own life with these larger than life relatives, but she also is a reluctant pessimist.
Almost Invisible by Kateema Lee is a daring and deeply emotional collection of poems that lament what was, wishes for a better beginning, and has made peace with how it has arrived. Lee has a strong voice that echoes throughout the shadows of the District.
RATING: Quatrain
About the Poet:
Kateema Lee is a Washington D.C. native. She earned her M.F.A in Creative Writing at the University of Maryland at College Park. She's a Cave Canem Graduate Fellow, and she's a Callaloo Workshop participant. Her work has appeared in anthologies, print, and online literary journals, including African American Review, Gargoyle, Word Riot, and Cave Canem Anthology XIII. When she's not writing, she teaches English and Women's Studies courses at Montgomery College.