Mailbox Monday, created by Marcia at To Be Continued, formerly The Printed Page, has a permanent home at its own blog.
To check out what everyone has received over the last week, visit the blog and check out the links.  Leave yours too.
Also, each week, Leslie, Vicki, and I will share the Books that Caught Our Eye from everyone's weekly links.
Here's what I received:
1. Mrs. Bennet Has Her Say by Jane Juska for review from Berkley.
It is a truth universally acknowledged that every man in possession of a wife must be in want of a son.

1785 was to be the most marvelous year of Marianne's life, until an unfortunate turn of events left her in a compromised state and desperate for a husband to care—or rather cover—for her. Now, she is stuck in an undesirable marriage to Mr. Edward Bennet, a man desperate in his own way for a male heir. But as she is still carrying a smoldering desire for the handsome Colonel Miller, Mrs. Bennet must constantly find new, clever ways to avoid her husband's lascivious advances until she is once again reunited with her dashing Colonel. Except that the best-laid plans of a woman in good standing can so often go awry, especially when her contrary husband has plans and desires of his own.
2. The Same-Different by Hannah Sanghee Park from the Academy of American Poets, winner of the 2014 Walt Whitman Award.
Deceptively straightforward and subtly pyrotechnic, the poems in Hannah Sanghee Park's debut collection captivate with their wordplay at first glance, then give rise to opportunities for extended reflection. "If / truth be told, I can't be true," she writes, but her startling juxtapositions of sound and meaning belie that claim, necessitating a search for the truth behind her semantic games.

Here are dozens of brief sentences that can serve as epigrams to undermine our ordinary ways of seeing, as Park's playfully deployed puns recall the sly paradoxes of Oscar Wilde. The Same-Different ranges from the wonders of the natural world to close human relationships, occasioning the kind of explorations offered in "And A Lie": "The asking was askance. / And the tell all told. / So then, in tandem // Anathema, and anthem."
3.  There Are Cats in This Book by Viviane Schwarz, which my daughter picked from the Friends of the Library as her summer reading reward.
There they are, purring under a blanket. But not for long! Three sprightly cats named Tiny, Moonpie, and Andre are eager to involve you in their games, whether it's tossing a ball of yarn (oof!), lifting flaps to find them in boxes (comfy), or getting caught in a pillow fight (biff!). As their antics get wilder still, they'll need a kind soul to blow on the page to dry them off! With an irresistible story that directly engages the reader, this book's clever design and bright, gestural illustrations make for cat-tastic lift-the-flap fun.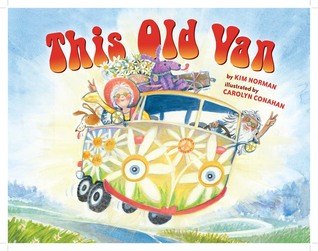 4.  This Old Van by Kim Norman, illustrated by Carolyn Conahan from Sterling Children's Books for review.

Take a rollicking ride in This Old Van, a joyful take on the classic children's counting song. As the colorfully painted vintage vehicle, driven by a really cool pair of grandparents, rolls down the highway, it passes one train, two bulldozers, three tractors, and four semis, right up to ten muddy motorbikes. And along the way, luggage flies off, horns honk, and the hurrying van zigs and zags—till it arrives at its destination JUST IN TIME! You won't be able to resist singing every fun verse out loud.
What did you receive?