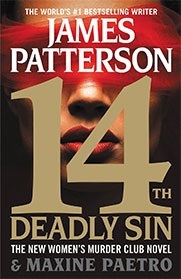 Source: Public Library
Hardcover, 384 pgs
I am an Amazon Affiliate
14th Deadly Sin by James Patterson and Maxine Paetro brings to light the possibility of police corruption in San Francisco, and Lindsay Boxer doesn't know who to trust.  When drug houses get hit and all of the perps are killed by men wearing SFPD windbreakers and latex masks, Boxer and her team have to determine if those men are really cops or if they are criminals trying to smear the reputation of the police department.
Meanwhile, Lindsay's husband, Joe, has to adjust to a new set of circumstances when he becomes a stay-at-home dad.  While he loves his little girl, Julie, the adjustment is a lot harder than he expects.  A former FBI agent at home doing laundry and other household chores, while his wife is chasing bad guys all over the city, what could be more of an adjustment, especially with the long hours she keeps.  At least, that's until he and his wife begin working on an off-the-books case regarding stabbings that happen on the same date every year.
Patterson and Paetro make a great writing team for this series.  These women are full of spunk and passion, but they're also not married to their jobs like some.  They love to be able to come home to their families and friends and just have a good time.  These gatherings of the Women's Murder Club are often pow-wows about their cases or stories, but they also are a great way for the ladies to blow off steam.
14th Deadly Sin by James Patterson and Maxine Paetro is a solid addition to the series, and while the audio for this one was unavailable at my library, I'm sure I would have enjoyed it much the same.  This one has got a little of everything — mystery, fun, relationships, and adjustments to new career/life situations.
About the Author:
James Patterson is a prolific author of thrillers, mysteries, young adult novels and more. His first successful series featured psychologist Alex Cross.
About the Co-Author:
Maxine Paetro collaborates with best–selling author James Patterson, co–writing The 4th Of July, The 5th Horseman, The 6th Target, The 7th Heaven, The 8th Confession, The 9th Judgment, 10th Anniversary and The 11th Hour, just released in May 2012. All are New York Times #1 best–sellers in the Women's Murder Club Series.