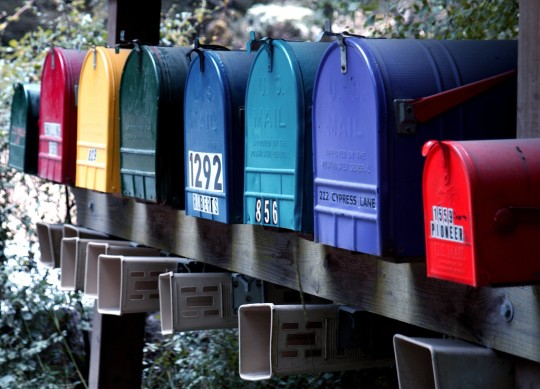 Mailbox Monday has become a tradition in the blogging world, and many of us thank Marcia of The Printed Page for creating it.
It now has its own blog where book bloggers can link up their own mailbox posts and share which books they bought or which they received for review from publishers, authors, and more.
Emma, Martha, and I also will share our picks from everyone's links in the new feature Books that Caught Our Eye. We hope you'll join us.
Here's what I received:
Hunters Point by Peter Kageyama for review in January from literary publicist Stephanie Barko.
SAN FRANCISCO, 1958. World War 2 veteran, Katsuhiro, "Kats" Takemoto is a Nisei, second generation Japanese American and the private detective for those who don't get noticed by the police or get the attention of traditional private eyes. The city is exploding with population growth and creative expression as the Beat poets and artists fill coffee shops and galleries. When a young Beat poet enlists Kats to keep his family from being pushed out of the Bayview Heights neighborhood by a shady developer, Kats learns that the conspiracy to take over the land around Hunters Point runs deep into Cold War fears and politics. Kats takes on the US government, the Navy, unscrupulous businessmen and the west coast mafia as he and his friends race to find the truth.

Award winning author Peter Kageyama's debut novel brings the post-war San Francisco scene to life with historic characters including Jimmy Stewart, Jack Kerouac, Neal Cassady, Alfred Hitchcock and Shig Murao, along with the dynamics of racial identity for Japanese Americans finding their footing again in America following the war and internment.
Lo by Melissa Crowe, winner of the Iowa Poetry Prize for review.
Lo maps the deprivation and richness of a rural girlhood and offers an intimate portrait of the woman—tender, hungry, hopeful—who manages to emerge. In a series of lyric odes and elegies, Lo explores the notion that we can be partially constituted by lack—poverty, neglect, isolation. The child in the book's early sections is beloved and lonely, cherished and abused, lucky and imperiled, and by leaning into this complexity the poems render a tentative and shimmering space sometimes occluded, the space occupied by a girl coming to find herself and the world beautiful, even as that world harms her.
In Kind by Maggie Queeney for review.
Part wunderkammer, part grimoire, Maggie Queeney's In Kind is focused on survival. A chorus of personae, speaking into and through a variety of poetic forms, guide the reader through the aftermath of generations of domestic, gendered, and sexual violence, before designing a transformation and rebirth. These are poems of witness, self-creation, and reclamation.
Sex Work & Other Sins by Julianne King for review.
Unapologetic and honest, King once again forces forbidden topics to the forefront as she grapples with defining morality in the light of survival. Family, poverty, desperation, and humanity are laid bare in this unflinching journey. King returns with writing that is brutal and evocative in its honesty as she drives toward blistering indictments of herself, her family, and society as a whole. Sex Work and Other Sins holds up a mirror to the reader and asks: What would you have done?
Women & Other Hostages by Laura McCullough, purchased.
Poetry, "If you, like the speaker in Laura McCullough's poem, 'Almost Nothing Something [stars / plates / cells]' have grown 'tired & suspicious of poetry' WOMEN AND OTHER HOSTAGES will absolutely revitalize you. These are riveting, wholly moving narratives of a life lived. Out of sorrow McCullough invokes a stunning grace where 'What is stripped from you' becomes a gift because 'what's left behind is all your own.' Women of all circumstances inhabit these poems. They shed their skin like snakes, 'memory in flesh,' and consider the bones of what holds us together in these divisive times. This beautiful book will knock loose what is lodged in your heart."–Suzanne Frischkorn
What Follows by H.R. Webster, purchased.
"What a lively, funny, lacerating book of poems from this "gutsy little zombie," H.R. Webster, who knows the world through direct, often brutal, experience, and ravishingly, through the senses. Here is a poet who knows "(t)he refrigerator warm with the animal smell / of butter," "the shy hysteria / of doves," "(h)unters storming through the gum trees like house cats / cut from their bells," and "the dick velvet of the apricot under a thumb," and also the reality of factory work, "those efficient little gestures, the left hand ready for what the right hand wrought," that "don't belong in a poem," but here they are. Here it all is, trauma and the genius of survival via the genius of imagination married to the genius of truth-telling. There is so much muchness in What Follows–I must follow it."–Diane Seuss, author of frank: sonnets

"Whether trafficking in the dark, alluring ambages of personal and cultural sexual powerplay, confronting the brutal indifferences of the body (and of what Roethke called "great nature") to human volition, or boldly protesting all manner of crimes against the humanimal,  the arresting poems in H.R. Webster's debut collection dare the reader to turn away from their gorgeously rendered, fearless and feral forays into one writer's intense, perspicacious sensibility. "All else dims before agony," Webster writes, and What Follows is part hagiography, part reliquary of a cosmos of beauty, want, and hurt. These poems will draw you into their experiences of the world and show you "desires [you] have failed to imagine."–Lisa Russ Spaar, author of Madrigalia: New & Selected Poems

"H.R. Webster writes: "It's the end of the world and we can't stop saying the word tender." Every poem in What Follows is both a beautiful and brutally honest account of what follows the end of love. Tender "is the only language left for flesh, for helplessness," she writes. But Webster's stance is far from helpless; this book is a brilliant, inventive, and deeply felt exploration of loss. It's an image-rich catalogue spiked with concise, often painful wisdom that makes me catch my breath. Horses, calves, dried snapdragons, milkvetch, snakes with their "delicate purses of venom," bees pouring from a breast, wolf spiders, a bus "kneeling like a girl," and flowers "petaling themselves monstrous" weave an escape plan in the heartscape of longing, translating precisely what it means to inhabit a female body. Densely sonic, often in sonnet form, these poems are so sharp, smart, and vulnerable that I feel forgiven for every wrong I don't even realize I've done. "Beauty opened a door, what tethered me back?" the poems ask, and this book provides an answer. An incredibly redeeming, courageous debut that through its incantations pulls back the curtain on our shared human suffering and offers hope for us all."–Sarah Messer, author of Dress Made of Mice
Department of Elegy by Mary Biddinger, purchased.
Part post-punk ghost story, part Gen-X pastoral, Mary Biddinger's poetry collection DEPARTMENT OF ELEGY conjures dim nightclubs, churning lakes, and vacant Midwestern lots, meditating on moments of lost connection. With the afterlife looming like fringe around the edges of this book, Biddinger constructs a view of heaven as strange as the world left behind. These poems escort us from forest to dance floor, bathtub to breakwater, memory into present.

"In DEPARTMENT OF ELEGY, Mary Biddinger examines the hot pink ignorance of youth and the equally vulnerable present. These thrillingly nimble, funny poems empathize with hunger and long for longing."–Jennifer L. Knox

"Mary Biddinger's seventh poetry collection guides readers across the dangerous terrain between memory and chaos with confidence, bravado, and–ultimately–hard-won expertise. The speakers' words themselves sustain a series of exquisite and delicate tensions between utterance and erasure, between form and improvisation, anchored throughout by a series of "Book" poems ("Book of Hard Passes," "Book of the Sea," "Book of Misdeeds," "Book of Transgressions," "Book of Disclosures," "Book of Mild Regrets"). The emotional undercurrent of this collection samples such a wide range of life and existence that we are left wondering where time goes and why so quickly, from the ritualistic taste of the insides of gloves, to the realization that once '…your friends have perished under tragic circumstances / eventually they become like beloved characters from books.'"–Erica Bernheim
Always a Relic, Never a Reliquary by Kim Sousa, purchased.
WINNER OF THE 2020 ST. LAWRENCE BOOK AWARD

In her debut full-length poetry collection, ALWAYS A RELIC NEVER A RELIQUARY, Brazilian American poet, editor and abolitionist Kim Sousa interrogates inheritance by reaching both backwards and forwards: backwards towards her father's first border crossing and forwards past her own. Centered around a specific personal trauma, a later-term miscarriage, the poems also contain collective trauma: they ask what it means to live in the United States both as immigrant and citizen, addressing State terror and violence as if by megaphone at the protest line. In Sousa's poems, the personal is political: they are anti-racist, ecocritical and proletariat. She sings diasporic resilience as both a horror and celebration. The poems are haunted but hopeful; here, there is always hope in rage and resistance.
What did you receive?