Poetry is my love, and I've loved Emily Dickinson's poetry since I was in school. My copy of The Complete Poems of Emily Dickinson is well worn. And one of her most famous poems (#479) begins "Because I could not stop for Death—".
Today, I have a treat. Amanda Flower will share an excerpt from her new Emily Dickinson mystery, Because I Could Not Stop for Death.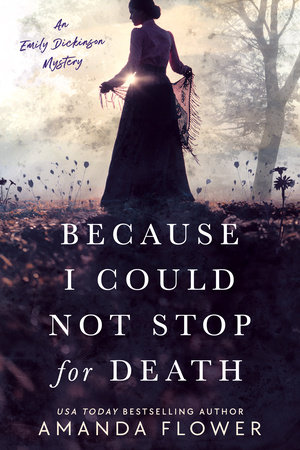 About the Book:
Emily Dickinson and her housemaid, Willa Noble, realize there is nothing poetic about murder in this first book in an all-new series from USA Today bestselling and Agatha Award–winning author Amanda Flower.

January 1855 Willa Noble knew it was bad luck when it was pouring rain on the day of her ever-important job interview at the Dickinson home in Amherst, Massachusetts. When she arrived late, disheveled with her skirts sodden and filthy, she'd lost all hope of being hired for the position. As the housekeeper politely told her they'd be in touch, Willa started toward the door of the stately home only to be called back by the soft but strong voice of Emily Dickinson. What begins as tenuous employment turns to friendship as the reclusive poet takes Willa under her wing.

Tragedy soon strikes and Willa's beloved brother, Henry, is killed in a tragic accident at the town stables. With no other family and nowhere else to turn, Willa tells Emily about her brother's death and why she believes it was no accident. Willa is convinced it was murder. Henry had been very secretive of late, only hinting to Willa that he'd found a way to earn money to take care of them both. Viewing it first as a puzzle to piece together, Emily offers to help, only to realize that she and Willa are caught in a deadly game of cat and mouse that reveals corruption in Amherst that is generations deep. Some very high-powered people will stop at nothing to keep their profitable secrets even if that means forever silencing Willa and her new mistress….
Without further ado, please read the following excerpt from Amanda Flower's Because I Could Not Stop for Death:
"The Dickinsons are moving?" I asked.

"Yes," she said in a crisp voice. "It has been Mr. Dickinson's goal to return to the homestead for many years. His father ran into a bit of financial trouble and lost it. He fled to Ohio in disgrace." She looked
around with bright red cheeks. "Don't repeat that."

"I won't," I promised. My hands began to shake. I clasped them in front of me and pressed them into my skirts.

"Was the boardinghouse your first position?" Miss O'Brien asked, getting back to the task at hand.

"No, I've been in domestic work for the last eight years." She frowned. "Eight years. You can't be more than sixteen."

"I am twenty, ma'am. I started work when I was twelve."

"What made you work so young?" She eyed me. "Should you not have been in school? The Dickinsons put great value in education, even in the education of girls such as yourself."

"My mother died, ma'am, and I had to provide for my younger brother and me. I had to go to work. Our mother taught us to work hard, so it was no trouble to take over that role."

"Haven't you got a father?" She narrowed her eyes.

"Not that I know of," I said and pressed my clenched hands deeper into my skirts. My father was not a topic for conversation even if it cost me the position at the Dickinson household. I would not speak of him, ever.

"How much younger is your brother than you?"

"Two years, ma'am," I said. "He's an adult now, too, and works just as much as I do. He works even harder, I should say, because of the physical labor required for man's work."

Miss O'Brien stood up. "I'm interviewing several more girls for this post. I will let you know by mail by the end of the week if we choose you." She looked at my wet, muddy skirts again.

My heart sank. If there were several young ladies applying for this position, what chance did I really have at winning the spot? I was the girl who came to the interview covered in mud and who was too young without the proper experience for the post. Why did I think I was the only one who would have been interested in the ad? As I told Miss O'Brien, the position was a chance to move up-this was true not just for me but for anyone in domestic work. There were many young women in my place that would want to do so.

"Thank you for your time," I said. "Would you like me to let myself out?"

Before Miss O'Brien could answer, a breathy voice said, "There will be no more interviews. Margaret, you have found the right maid."

I turned and a small woman stood in the doorway. She was petite and wore a brown dress that was cinched around her small waist. Her chestnut red hair was pinned back in a fashionable knot and her dark eyes shone with interest, but there was a faraway look about them too. She was a very pretty woman, but there was something birdlike in her movements as she stepped into the room. Her hands fluttered like the tips of wings.

Miss O'Brien jumped to her feet. "Miss Dickinson, can I help you with something?"

"You have helped. You have found our new maid. I'm very grateful to you for that. Mother wants us to keep a clean house, especially when she is in the middle of one of her episodes."

Episodes? What does she mean by this?

Miss Dickinson studied me with an exacting gaze. "She looks like she has a strong back too. It's something that we will need if Father insists on pulling us up and moving us back to the place of my birth." She said this like she wasn't very keen on the idea.

"Very well, Miss Dickinson." Miss O'Brien dipped her chin.

"Thank you, Margaret." The small woman looked me in the eye. "I like someone who would sacrifice herself for her family and duty. That's just the kind of person I want on our staff. I think there have been enough questions. Margaret, please show the young maid to her room and cancel the rest of your interviews for the position."

Miss O'Brien pressed her lips together as if she were unsure. "If you are certain, Miss . . ."

"Very certain. I like her, Margaret. If I like her, Father will agree."

Miss O'Brien nodded. "Please follow me, Miss Noble. I will show you to your room."

I blinked; it was all happening so fast. I glanced back at Miss Dickinson, but she was no longer there. She was gone.

— Excerpted from Because I Could Not Stop for Death by Amanda Flower Copyright © 2022 by Amanda Flower. Excerpted by permission of Berkley. All rights reserved. No part of this excerpt may be reproduced or reprinted without permission in writing from the publisher.
Thank you, Amanda, for sharing this excerpt.
About the Author:
Amanda Flower is the USA Today bestselling and Agatha Award-winning mystery author of over forty novels, including the nationally bestselling Amish Candy Shop Mystery Series, Magical Bookshop Mysteries, and, written under the name Isabella Alan, the Amish Quilt Shop Mysteries. Flower is a former librarian, and she and her husband, a recording engineer, own a habitat farm and recording studio in Northeast Ohio.