Source: Purchased
Hardcover, 332 pgs.
I am an Amazon Affiliate
Cloud Hopper by Beth Kephart is a novel of adventure in the eyes of three teens who have found their own family among one another. K, Wyatt, and Sophie look to the skies as Sophie's Grandma Aubrey wove tales of her namesake, Sophie Blanchard, aeronaut extraordinaire. A cloud hopper comes to life in a young migrant girl who falls from the sky one summer as the trio are watching. When they scramble to save her from the wreckage, the trio begin a journey of self-discovery and shared secrets that has little to do with the hopper herself. Sophie must become more at ease in the air, like her namesake, if she is to come terms with all that happens in this novel.
Kephart's lyrical prose creates a sense of urgency to find the migrant girl's family without them being caught by ICE or worse, as the hospital will only keep her so long as she heals. Sophie's grandmother's multiple sclerosis is progressing at the same time. Sophie is pulled between her friends and the mission and the love of her grandmother who needs her most. What Kephart does so well is create a vivid scene in each moment, making the reader feel they are there on the forest floor searching, in the Cessna circling, at the hospital appeasing, and striving for a resolution and a happy ending, even if they know not all endings are happy.
"You pick the best people for your life, Grandma Aubrey always says. And you stick with them." (pg.78)

"'Nothing that is not to be expected,' she says, but it takes her way too long to say it, and my thoughts are worries, and my worries are like the black storm in the sky that came upon the hopper and threw her to the ground." (pg. 129)
Like many other Beth Kephart books, readers will be swept into a new world — a world that is both real and fantastical. It's poetic, it bends the rules, and it soars. Cloud Hopper by Beth Kephart is like the hopper, flying perilously toward danger without a safety net, but the journey is well worth the unpredictability.
RATING: Cinquain
Other Reviews: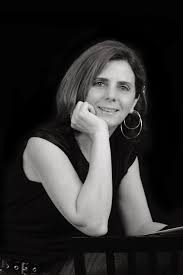 About the Author:
Beth Kephart is the author of twenty-two books, publishing memoir, young adult literature, a corporate fairytale, an autobiography of a river, and an essay/photography collection.
Handling the Truth: On the Writing of Memoir (Gotham), based in part on Kephart's teaching at Penn (where she won the 2015 Beltran Teaching Award), won the 2013 Books for a Better Life Award (Motivational Category), was featured as a top writing book by O Magazine, and was named a Best Writing Book by Poets and Writers. Small Damages (Philomel) was named a 2013 Carolyn W. Field Honor Book and a best book of the year by many publications. Going Over (Chronicle) was the 2014 Parents' Choice, Gold Medal Winner/Historical Fiction and a Booklist Editor's Choice. One Thing Stolen (Chronicle) was a 2015 Parents' Choice Gold Medal winner. Kephart's 2014 Shebooks e-memoir is Nest. Flight. Sky.: On Love and Loss One Wing at a Time. Her 2013 middle grade historical novel, Dr. Radway's Sarsaparilla Resolvent (Temple University Press), was named a top book of the year by Kirkus.
Kephart is a National Book Award nominee and a winner of the Pennsylvania Council on the Arts fiction grant, a National Endowment for the Arts grant, a Leeway grant, a Pew Fellowships in the Arts grant, and the Speakeasy Poetry Prize. She writes a monthly column for the Philadelphia Inquirer, is a frequent contributor to the Chicago Tribune, has given keynote addresses on the state of literature and teaching, and served as a judge for the National Book Awards, the National Endowment for the Arts, and PEN. 

Kephart was one of 50 Philadelphia writers chosen for the year-long Philadelphia's Literary Legacy, exhibited at the Philadelphia International Airport. Excerpts from her Love: A Philadelphia Affair were the subject of a six-month Airport exhibit. She is a Radnor High Hall of Fame.
Kephart is the co-founder of Juncture Workshops, offering memoir workshops and resources to writers across the country.