Source: publisher/TLC Book Tours
Hardcover, 304 pgs.
I am an Amazon Affiliate
Nearly 250 years after Jane Austen's birth, her popularity continues to gain momentum. With the number of spinoffs, continuations, and variations of her work soaring each year, the impetus of her popularity has been attributed to many things, including the scholarly study of her novels and the relatively relatable topics she explored. The Lost Books of Jane Austen by Janine Barchas takes a different approach to the discussion by examining those editions of Austen's novels that often fell out of circulation, were read until they fell apart, were produced using the same printing plates time and again, and were cheap enough for those of the working class to buy them on occasion.
Don't be fooled! This is not a book about those illustrious, high-priced, out-of-reach (for most of us) first editions of Austen's novels.
Complete with 100 full-color photographs of covers that hearken back to the penny dreadfuls, yellow-backs, and dime store copies with pulp-like covers on wire racks, Barchas has sought the history of the mass produced Austen novel. Many of which are held in private hands not by collectors, but by ordinary people. Some of these covers depict Lydia making a fool of herself at Brighton in Pride & Prejudice, Mary Crawford seducing Edmund, and much more scandalous behavior.
"Austen's reputation has benefited from every significant modern innovation in the making and marketing of cheap books over the past two centuries. That reception history, starting in earnest with her first reprintings in the 1830s, doubles as the story of the increasingly inexpensive book," says Barchas in the preface.
Richard Bentley is often credited with Austen's increased popularity, but Barchas makes her case that it was more than his Standard Novels reprint series in 1833. She contends that those novels were still too expensive. Barchas adds that those volumes were soon joined with far cheaper versions of Austen's novels, which may have had a greater impact on widening her popularity. "Not only was Jane Austen present among the earliest experiments in mass-market paperbacks," says Barchas, "but these lowly books prove how her entrance into the literary canon occurred in a much cruder fashion than most of her fans today imagine."
Later, Penguin Books created their own paperback versions that are color-coded by type: fiction, mystery, etc. As we move through Barchas's nonlinear history of Austen's covers, some new editions are more elaborate with red cloth covers, cursive writing, and more traditional looks, compared to the melodramatic scenes of previous covers.
Did you know that Austen's books were used to sell soap? Or that paintings were used as a way to sell Austen's books? And I bet you thought Austen marketed as "ChickLit" was a recent phenomenon, but it actually first started in the 1840s. Barchas provides readers with not only gorgeously photographed covers, wonderful vignette's about owners' copies of Austen's works, and so much more. The Lost Books of Jane Austen by Janine Barchas is a must have for Janeites and Janites alike. If you're still shopping this holiday season, you cannot go wrong with this book. Remember, most of us read books that were mass-printed paperbacks in school, not the hardcover, first editions that are coveted by collectors today. The mass-printed books are the lifeblood of any author, especially if they hope to survive century after century.
RATING: Cinquain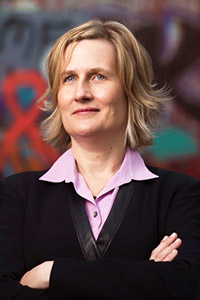 About the Author:
Janine Barchas is the Louann and Larry Temple Centennial Professor of English Literature at the University of Texas at Austin. She is the author of Matters of Fact in Jane Austen: History, Location, and Celebrity and Graphic Design, Print Culture, and the Eighteenth-Century Novel. She is also the creator behind What Jane Saw.