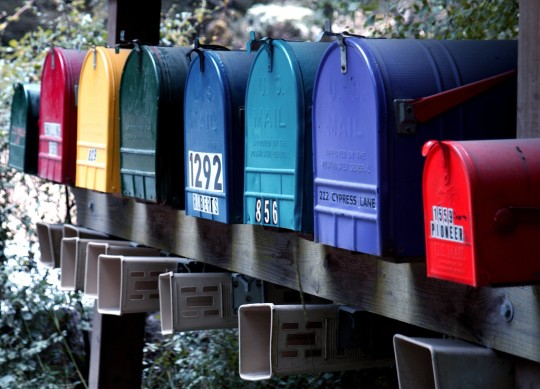 Mailbox Monday has become a tradition in the blogging world, and many of us thank Marcia of The Printed Page for creating it.
It now has it's own blog where book bloggers can link up their own mailbox posts and share which books they bought or which they received for review from publishers, authors, and more.
Leslie, Martha, and I also will share our picks from everyone's links in the new feature Books that Caught Our Eye. We hope you'll join us.
Here's what I received:
The Meyersons of Meryton by Mirta Ines Trupp, a Kindle freebie.
When a new family, thought to be associated with the House of Rothschild arrives in Meryton, a chain of events are set in place that threaten the betrothal of Miss Elizabeth Bennet to her beloved Mr. Darcy.

Rabbi Meyerson and family are received at Longbourn. This inconvenience leads to misfortune, for when the rabbi disappears from the quiet market town, Mr. Bennet follows dutifully in his path. Her father's sudden departure shadowed by the Wickhams' unannounced arrival has Elizabeth judging not only her reactions to these tumultuous proceedings but her suitability as the future Mistress of Pemberley.

A sensible woman would give her hand in marriage without a second thought. Can Elizabeth say goodbye forever to the one man who has captured her heart?

The Meyersons of Meryton is a Pride and Prejudice variation. The narrative introduces Jewish characters and history to the beloved novel and, although there are some adult themes, this is an inspirational and clean read.
Of Fortune's Reversal: A Pride and Prejudice Variation by Don Jacobson, a Kindle freebie.
A brisk early November Hyde Park morning is shattered by a child's scream. How two adults react in those next few desperate moments sets the plot in motion in this "Pride & Prejudice" alternative focusing on twenty-one year old Kitty Bennet.

"Of Fortune's Reversal" is a novella-length tale based upon an inversion of Mrs. Bennet's exclamation that with one good marriage, the other girls will be thrown in front of rich men. For more than two centuries, the Jane/Bingley: Lizzy/Darcy tetrarchy has been portrayed as the solution to Mary and Kitty's marriage difficulties, not to mention Mrs. Bennet's housing requirements. But, what if that was not the case?

What if Mr. Bennet dies just as Jane is receiving the Bingley sisters' invitation to dinner?

No rainy day horseback ride. No cold for Jane. No Elizabeth coming to Netherfield to nurse her elder sister…so no links forged in any way with Bingley (beyond what he felt for Miss Bennet at the Assembly) and Darcy (no fine eyes, no walk around the library, etc).

No Netherfield Ball.

No proposal from Collins because he was already wed to a shrew who convinced him to evict the Bennet women. So no trip to Hunsford cottage for Lizzy because Charlotte remains a spinster at Lucas Lodge.

Rather, the Bennet women are forced out of Longbourn—the older girls to Gracechurch Street and ultimately taking up employment away from the city. The two younger girls remain in Meryton with their mother, to be sent away to seminary for some much-needed formal education. But, the death of Thomas Bennet has changed more than the family's financial fortunes. It has also bent the arc of the P&P universe.
What did you receive?