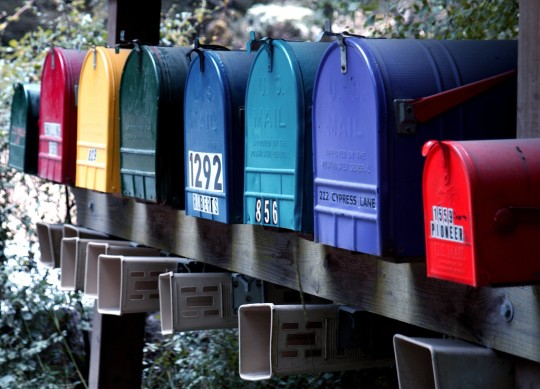 Mailbox Monday has become a tradition in the blogging world, and many of us thank Marcia of The Printed Page for creating it.
It now has it's own blog where book bloggers can link up their own mailbox posts and share which books they bought or which they received for review from publishers, authors, and more.
Leslie, Martha, and I also will share our picks from everyone's links in the new feature Books that Caught Our Eye. We hope you'll join us.
Here's what I received:
The 3-Day Effect by Florence Williams, an Audible original download.
Does nature really make us feel better? The 3-Day Effect takes a look at the science behind why being in the wild can make us happier, healthier, and more creative. Whether it's rafting down Utah's Green River, hiking in Utah's wilderness, or walking through Rock Creek Park in Washington, DC, scientists are finding that the more exposure humans have to nature, the more we can benefit from reduced anxiety, enhanced creativity, and overall well-being.

Trek with science journalist Florence Williams and researchers as we guide former war veterans, sex trafficking survivors, and even a nature hater on three-day excursions to the wild to see how being outdoors offers something like a miracle cure for an array of serious and everyday ailments. They wire themselves up to see what happens under the vast sky.
The Child by Jan Hahn, an Audible for review.
In Jane Austen's "Pride and Prejudice," Fitzwilliam Darcy's proposal to Elizabeth Bennet at Hunsford is disastrous. In Jan Hahn's "The Child," Darcy flees England soon afterward, striving to overcome his longing for her. Upon his return two years later—while standing on the steps of St. George's Church in Hanover Square—he spies the very woman he has vowed to forget. But who is the child holding her hand?

Darcy soon discovers that Elizabeth and her family are suffering the effects of a devastating scandal. His efforts to help the woman he still loves only worsen her family's plight. His misguided pride entangles him in a web of falsehood, fateful alliances, and danger.

Will Elizabeth be able to forgive Darcy for his good intentions gone awry? And what effect will the child have on Darcy's hopes to win Elizabeth's love?
The Journey by Jan Hahn, an Audible for review.
Shortly after the Netherfield ball, Elizabeth Bennet begins a journey to visit her relations in London with her travelling companions, Mr. Bingley's sisters and the proud, arrogant Mr. Darcy. Suddenly, their carriage is abruptly stopped, and Elizabeth hears the menacing cry, "Stand and deliver!" Abduction The leader of a band of highwaymen, Nate Morgan, a handsome, masked rogue, plans to seize Elizabeth for his amusement, but Darcy steps forward and offers himself as a hostage in her place. When his proposal fails to secure Elizabeth's release, Darcy makes a shocking declaration-Elizabeth is his wife! Romance At a time when a woman's future could be ruined by the slightest hint of scandal, Elizabeth's reputation will depend not only upon the actions of a hero but a villain as well. Filled with danger, excitement, daring and passion, The Journey follows Jane Austen's beloved characters from Pride and Prejudice as they embark on a fateful journey that changes their lives forever.
What did you receive?