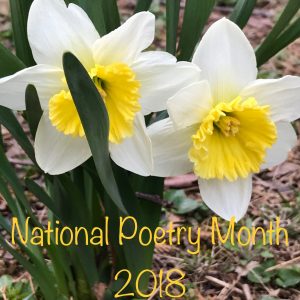 Thanks to everyone who has shared poetry-related posts this month.
Jill at Rhapsody in Books always has a string of #NationalPoetryMonth blog posts, and I love that she highlights children's books that are poetic.
Catch her reviews of The Watcher by Nikki Grimes and Enormous Smallness of E.E. Cummings by Matthew Burgess.
Cummings is one of my favorite poets and one of his poems was read at our wedding by my friend, Anna. The illustrated book about Cummings is going on my list for my daughter.
Jeanne at Necromancy Never Pays shares her new kitten adventures and a poem for Spring by Edna St. Vincent Millay.
Naida of the bookworm shares a spot of Anne Sexton's poetry.
In other poetic news, I read a poem at the last open mic, attended by the mayor of Gaithersburg, and I've written 3 poems this month. One poem is still a work in progress, but that's ok.
LOCAL EVENTS (MD/DC):
For upcoming local events, check out the Split This Rock Poetry Festival which starts today in Washington, D.C.
Additionally on April 22, 11 a.m. to 4 p.m., you can attend Kensington Day of the Book. Some poets like Luther Jett and Don Illich, who read at the DiVerse Gaithersburg Poetry Reading Series, will be there, as well as Nancy Naomi Carlson and Indran Amirthanayagam. There also will be young poets and storytellers. Although I will be unable to attend this year due to a prior engagement, this is a local event you won't want to miss, Marylanders.

Also on April 19 and 20, The Bethesda Urban Partnership is hosting its annual literary event with winners of the Poetry and Short Story/Essay contest. Find out more about those events here.