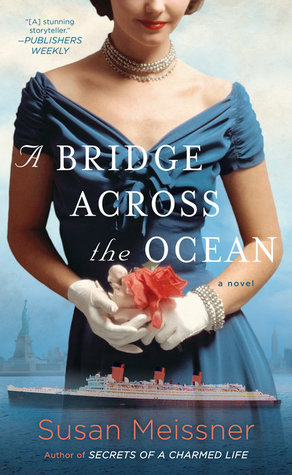 Source: Berkley
Paperback, 384 pgs.
I am an Amazon Affiliate
A Bridge Across the Ocean by Susan Meissner pivots on the life of the Queen Mary, a luxury liner that crossed the ocean to entertain the wealthy and was later converted to carry troops across the Atlantic and war brides back to America after WWII.  Katrine Sawyer, Phoebe Rogers, and Simone Robinson are war brides hoping to return to the arms of their American husbands, and they share a stateroom together and exchange camaraderie until one woman's secrets come to the surface threatening to upend all of her plans for a new future in America.  In the present, Brette Caslake is a reluctant medium who visits the old ship to help an old friend from her past, as she deals with her own decisions about whether she wants to start a family.
Meissner's historical fiction elements are vibrant and and emotional.  Simone struggles to flee her home in Paris after the Gestapo raids her father's shoe repair shop, while Phoebe is just eager to return to the arms of her husband and introduce him to his son.  However, Katrine has fled Germany and a secret past that she will have a hard time escaping.  The stories set during WWII are the strongest, and while Phoebe is a war bride on the ship and seems to take a central role as Katrine's friend, her backstory is a little lost to the reader.  Meanwhile, the present day story is developed slowly throughout the novel until the end where it seemed a bit rushed.
There are a few magical elements that have to be taken at face value, but overall the novel is enjoyable.  It also raises questions about how one can come to forgive someone who comes from a land where you bore so many losses and traumas?  A Bridge Across the Ocean by Susan Meissner is about the future happiness just out of reach and what it takes to get there, especially when everything is stacked against you.
RATING: Quatrain
About the Author:
Susan Meissner was born in San Diego, California, the second of three. She spent her childhood in just two houses.  Her first writings are a laughable collection of oddly worded poems and predictable stories she wrote when she was eight.
She attended Point Loma College in San Diego, and married her husband, Bob, who is now an associate pastor and a chaplain in the Air Force Reserves, in 1980. When she is not working on a new novel, she is directing the small groups ministries at The Church at Rancho Bernardo. She also enjoy teaching workshops on writing and dream-following, spending time with my family, music, reading great books, and traveling.