Mailbox Monday, created by Marcia at To Be Continued, formerly The Printed Page, has a permanent home at its own blog.
To check out what everyone has received over the last week, visit the blog and check out the links. Leave yours too.
Also, each week, Leslie, Vicki, and I will share the Books that Caught Our Eye from everyone's weekly links.
Here's what I received:
Fun with Stichables! by Suzy Ultman from Quarto Knows books.
Fun with Stitchables introduces young crafters to the fun of simple embroidery. Quick and easy cross-stitch sewing cards are included with punched holes for easy stitching, as well as a 16-page project book with instructions for designing your own unique stitching patterns and color combinations. A project gallery shows examples of what the hand-stitched cards can become once they are complete: everything from ornaments to greeting cards! The simple stitching patterns taught in this book promote growth and development, hand-eye coordination, as well as creativity and imagination. Fun with Stitchables will entertain and delight crafters of all ages and inspire a lifelong love of embroidery.
A Matter of Chance by L.L. Diamond from Anna (borrowed)
When single-mother Lizzy Gardiner meets William Darcy, he doesn't make the best of impressions. Can the two of them leave their pasts behind and find love with each other, or will the ghosts of the past return to keep them apart?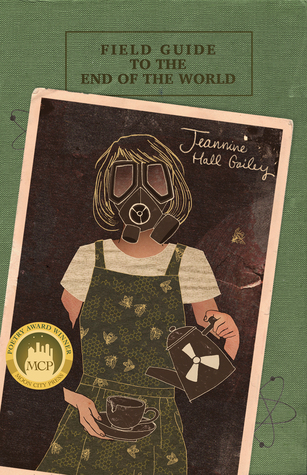 Field Guide to the End of the World by Jeannine Hall Gailey, my autographed copy has arrived. I LOVED this book.
Field Guide to the End of the World, winner of the 2015 Moon City Poetry Award, delivers a whimsical look at our culture's obsession with apocalypse as well as a thoughtful reflection on our resources in the face of disasters both large and small, personal and public. Pop-culture characters—from Martha Stewart and Wile E. Coyote to zombie strippers and teen vampires—deliver humorous but insightful commentary on survival and resilience through poems that span imagined scenarios that are not entirely beyond the realm of possibility. The characters face their apocalypses in numerous ways, from strapping on rollerblades and swearing to taking notes as barns burn on the horizon. At the end of the world, the most valuable resource is human connection—someone holding our hands, reminding us "we are miraculous."
Just One Thing! by Nancy Viau, illustrated by Timothy Young, an unexpected surprise from Schiffer Publishing.
Every child about to enter middle school will be able to relate to this heart-warming, funny story. Anthony Pantaloni needs to figure out one thing he does well one thing that will replace the Antsy Pants nickname he got tagged with on the first day of fifth grade, one good thing he can own before moving up to middle school next year. It seems that every kid at Carpenter Elementary has a claim to fame: Marcus is Mr. Athletic, Alexis is Smart Aleck, Bethany has her horse obsession, and even Cory is known as the toughest kid in the school. Ant tries lots of things, but nothing sticks! It doesn t help that there are obstacles along the way a baton-twirling teacher, an annoying cousin, and Dad's new girlfriend, to name a few. Just One Thing! is chock full of hilarious adventures that will keep young readers cheering until the very end. For ages 8-12."
Mabel and the Queen of Dreams by Henry, Joshua, and Harrison Herz, illustrated by Lisa Woods from Schiffer Publishing for review.
Little Mabel is an expert at not going to sleep. She knows all the best bedtime-avoiding excuses. "I'm thirsty." "I need to use the bathroom." "Will you tell me a story?" Luckily, Mom's quiver of bedtime tales includes the story of the Fae Queen, who paints children's dreams and can only visit when their eyes are closed. Inspired by Mercutio's soliloquy in Romeo & Juliet, in which he details how the tiny fairy queen influences people's dreams as she passes by in her flying chariot, the soothing story evokes images of an ant in a worn gray coat and a hazelnut-shell chariot with a roof of grasshopper wings. Told in lyrical language that adults will also appreciate, the story helps parents get their kids to sleep. For ages 0-6.
The Fortress by Danielle Trussoni, an unexpected surprise from Dey Street Books.
From their first kiss, twenty-seven-year-old writer Danielle Trussoni is spellbound by a novelist from Bulgaria. The two share a love of jazz and books and travel, passions that intensify their whirlwind romance.

Eight years later, hopeful to renew their marriage, Danielle and her husband move to the south of France, to a picturesque medieval village in the Languedoc. It is here, in a haunted stone fortress built by the Knights Templar, that she comes to understand the dark, subterranean forces that have been following her all along.

While Danielle and her husband eventually part, Danielle's time in the fortress brings precious wisdom about life and love that she could not have learned otherwise. Ultimately, she finds the strength to overcome her illusions, and start again.

An incisive look at romantic love, The Fortress is one woman's fight to understand the complexities of her own heart, told by one of the best writers of her generation.
What did you receive?