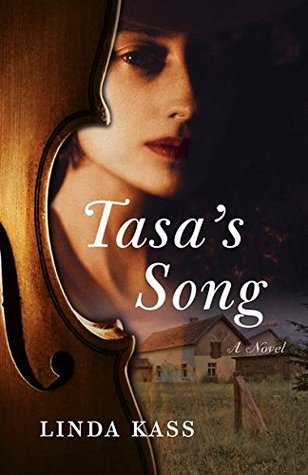 Source: Caitlin Hamilton Marketing & Publicity and She Writes Press
Paperback, 256 pgs.
I am an Amazon Affiliate
Tasa's Song by Linda Kass, BRONZE WINNER, IPPY AWARD for HISTORICAL FICTION, is a concerto built on the jarring experiences of young violinist Tasa Rosinski in war-torn Poland during WWII.  Poland has changed hands many times before and does so again during the war, a war that many never expected to get as far as it did. As a young girl, she's sent for additional schooling in Brody with her cousin Danik, but even as she enjoys school, she sees how the townspeople begin to treat their Jewish neighbors.  As fear creeps along the streets, Tasa softens the sharp edges with her violin, practicing music and losing herself in its timbres.
"In conveying the complicated history of Poland, Tasa's schoolteacher used Podkamien as an example when she said you could live and die in one spot and occupy four different countries, because this part of Poland was constantly being invaded and carved up, then 'liberated' by somebody." (pg. 15)
Tasa's Jewish family is well liked by the townspeople of Podkamien because her father invested in the town, even as his family's wealth grew.  He helped bring electricity and infrastructure to the village, making the lives of others better.  When the Nazis move on Poland and it is caught in between them and the Soviets, her family is able to escape for the most part with the help of non-Jewish families.  However, the tensions in the village are immediate, and the fear of being discovered can be difficult to live with.  Tasa, however, finds strength in her memories of her encouraging grandfather and her supportive mother, but also in her music, which provides her an escape from fear and loss.  She's a strong young woman, and her strength helps others to keep going.
Tasa's Song by Linda Kass demonstrates the tension within families at a time when there is so much uncertainty, and it illustrates the changing tides in just one nation during WWII.  Being Jewish in Europe during WWII was dangerous, and while luck can be with you, that luck also can turn out to be a bad omen.  This is a story of growing up in war, but also of learning to navigate uncertainty and reach into the future for something better without losing hope or the memory of those left behind, many in unmarked graves.
RATING: Quatrain
About the Author:
Linda Kass wrote for regional and national publications, including Columbus Monthly, TIME and The Detroit Free Press, early in her career as a journalist. TASA'S SONG, her debut novel, is inspired by her mother's life in eastern Poland during the Second World War.
Linda lives in Columbus, Ohio, where she is a strong advocate of education, literacy, and the arts. Her past experience as a trustee and board chair of the Columbus Symphony Orchestra fed into much of the music that fills the pages of TASA'S SONG. Linda enjoys long distance road cycling and rides in an annual event to support cancer research.