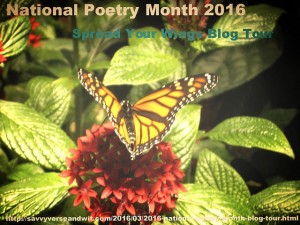 Book Spine Poetry is fun and easy, and you can even get your kids involved with their own books.  It's like a game of "I Spy" in which you look at the books on your shelves or at the library, and you arrange them in some kind of order that pleases you to make a poem out of the titles listed on their spines.
Here's great little step-by-step instructions for kids on how to create their own.
I'd love to see what poems you create, feel free to post them on your blog, on Twitter, on Facebook.  Use the tag #bookspinepoetry and #NPM2016.
It will be fun to see what you create. It can be addictive, if you're not too careful.
Check out the one's created in 2014.
Here's an example of two I created: (not very good)
This Is How I'd Love You
The Lost Art of Mixing
Never
Hunted
Falling Under
The Coldest Girl in Coldtown
This Is the Story of You
Untamed
The Voice I Just Heard
The Italian Lover
First Impressions
Gone
What does your poem look like?