Mailbox Monday, created by Marcia at To Be Continued, formerly The Printed Page, has a permanent home at its own blog.
To check out what everyone has received over the last week, visit the blog and check out the links.  Leave yours too.
Also, each week, Leslie, Vicki, and I will share the Books that Caught Our Eye from everyone's weekly links.
Here's what I received: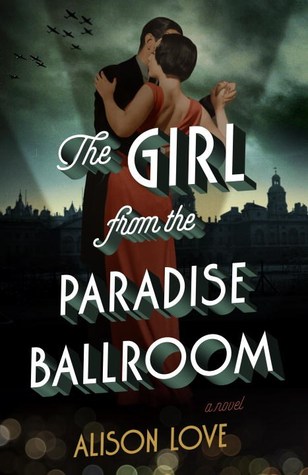 The Girl from the Paradise Ballroom by Alison Love, a win from LibraryThing Early Reviewers.
The first meeting between Antonio and Olivia at the Paradise Ballroom is brief, but electric.  Years later, on the dawn of World War II, when struggling Italian singer Antonio meets the wife of his wealthy new patron, he recognizes her instantly: it is Olivia, the captivating dance hostess he once encountered in the seedy Paradise Ballroom. Olivia fears Antonio will betray the secrets of her past, but little by little they are drawn together, outsiders in a glittering world to which they do not belong. At last, with conflict looming across Europe, the attraction between them becomes impossible to resist–but when Italy declares war on England, the impact threatens to separate them forever.
The Beautiful Possible by Amy Gottlieb for a TLC Book Tour in February.
Spanning seventy years and several continents—from a refugee's shattered dreams in 1938 Berlin, to a discontented American couple in the 1950s, to a young woman's life in modern-day Jerusalem—this epic, enthralling novel tells the braided love story of three unforgettable characters. In 1946, Walter Westhaus, a German Jew who spent the war years at Tagore's ashram in India, arrives at the Jewish Theological Seminary in New York City, where he meets Sol Kerem, a promising rabbinical student.

A brilliant nonbeliever, Walter is the perfect foil for Sol's spiritual questions—and their extraordinary connection is too wonderful not to share with Sol's free-spirited fiancée Rosalie. Soon Walter and Rosalie are exchanging notes, sketches, and secrets, and begin a transcendent love affair in his attic room, a temple of dusty tomes and whispered poetry.

Months later they shatter their impossible bond, retreating to opposite sides of the country—Walter to pursue an academic career in Berkeley and Rosalie and Sol to lead a congregation in suburban New York. A chance meeting years later reconnects Walter, Sol, and Rosalie—catching three hearts and minds in a complex web of desire, heartbreak, and redemption. With extraordinary empathy and virtuosic skill, The Beautiful Possible considers the hidden boundaries of marriage and faith, and the mysterious ways we negotiate our desires.
This Is the Story of You by Beth Kephart, a happy unexpected surprise that comes out officially in April.
On Haven, a six-mile long, half-mile-wide stretch of barrier island, Mira Banul and her Year-Rounder friends have proudly risen to every challenge. But then a superstorm defies all predictions and devastates the island, upending all logic and stranding Mira's mother and brother on the mainland. Nothing will ever be the same. A stranger appears in the wreck of Mira's home. A friend obsessed with vanishing disappears. As the mysteries deepen, Mira must find the strength to carry on—to somehow hold her memories in place while learning to trust a radically reinvented future. Gripping and poetic, This Is the Story of You is about the beauty of nature and the power of family, about finding hope in the wake of tragedy and recovery in the face of overwhelming loss.
What did you receive?